Whenever any scene or situation presents itself on our life's canvas we must seek God's direction to properly apply and paint the intended strokes. Having the proper attitude about God is necessary to deal with any present injustices. Persecution and misunderstanding will attempt to take a dominant position to etch insecurity and doubt onto the forefront of your life canvas. Yielding subdued hues and shades of gray to subliminally overshadow the main theme. But as you always keep in mind that God knows you. His Light will shine forth brightly in the midst, even when darkness tries to impose itself upon you.
Yield not to temptation
We cannot predict the future precisely. However, we can always look to God for direction. At any given moment He can reveal to us whatever we need to know and do to accomplish His will within our lives. However, we must learn to keep focused, humble ourselves, pray, trust and put our faith in God. He is our Creator and Maker who knows us and will watch over and protect us living in and upside down world.
God allows both good and bad times for all of us. "He is not a respecter of persons." But he always has our best interest at heart. We must learn to consistently lean and put our faith and trust in Him. We are to "Walk by Faith!" In order to not be pulled into whatever is suddenly hurled into your direction even though intended to snarl, derail, discredit our credibility or entrap us, our focus must always be upon HIM! He will direct us through, over it or around it. Better yet, He will remove it when necessary or even demolish it. We must learn how not to allow insults, injustices or any storm or seasonal moment in time define the totality of our existence.
Spending time with God in His Word is important
When you spend time in His presence you can abide under the shadow of The Almighty because you know that He knows and this is what ultimately truly matters. Ecclesiastes tells us that, "There is something else meaningless that occurs on earth; righteous men who get what the wicked deserve, and wicked men who get what the righteous deserve." The point that I am trying to make is that life has a much deeper meaning than what man sees. Many seek first as a top priority to be affirmed and followed and being recognized in the eyes of man. Momentarily this may satisfy an inner longing, life on this side of heaven is short, there really is a much deeper meaning to life.
If all the wisdom, prestige or power that the world has to offer were available it would be but a minute particle in regards to the infinite wisdom and power of the Lord. Perhaps this is why Jesus Christ made Himself of no reputation? Yes we are in the world but; " it is Him we live and move and have our being." Acts 18. Although often unrecognized or whenever accepted by the masses Christ Jesus did not deter from His life purpose. He remained faithful and committed to the will of His Father in and often, cruel, harsh upside down world.
"Walk in the Light!"
God sees and knows it all. It is not merely how things appear or seem. We all will have to stand before an all knowing all wise omniscient God who knows where our hearts and minds are as well as our intentions. Man can do no more than God allows… Know the Lord and His Word so you are not towed along with the "false teaching" of anyone. Ephesians says "have nothing to do with the fruitless deeds of darkness, but rather expose them. For it is shameful even to mention what the disobedient do in secret. But everything is exposed to the Light becomes visible, for the Light makes everything visible…"
God tells us to live as children of the Light. When you are truly walking in the Light you know without doubt that whatever darkness tries to overshadow your life's canvas, that your Creator, your maker, our Heavenly Father is absolutely aware. In all things trust God for in His time He will always make a way for us when we are committed to His will. You can surely trust Him to keep you right side up, living in and upside down world.
Notice how most animals walk on all fours. God Created us as His children to walk uprightly. Our hands should be readily available to reach up and Praise Him! It is important to always be aware of what is going on about us. To be cognizant of our environment wherever we are. We do not want to live in denial, neither is it healthy. We are forever growing as long as God has us on this side of Heaven. Keep in mind, Jesus did not come to depress nor oppress us, but to correct and enlighten us to a better way of life. Life without God is futile and meaningless.
Spiritual food
God's Word is our life manual and the most incredible  essential intrinsic tool to help us successfully navigate through life. It is our marvelous spiritual food. It is also our spiritual sword and it cuts both ways when used properly. It cuts, carves, enhances, molds and shapes  us  like nothing else. We can find hope in the midst of sorrow, joy in the midst of sadness, comfort in the midst of pain, encouragement in the midst of persecution and peace within our awesome God. This remains true within the midst of this upside down world!
I pray for our nation. It's in a bad, situation. We've forgotten the Golden Rule.
All too often the Scripture is quoted yet its imperial magnificent brilliance to enhance and enlighten our lives is overlooked. In the case of "judging" we need to ponder this subject and all its facets. It is often said we are not to judge. Whether you realize it or not we all make judgments daily often without thinking. You/we in fact judge when determining if something is so. As we continue on the path of godly spiritual learning we can acquire discernment. We become better equipped to navigate through this "Valley of the Shadow of Death."
Time is of the essence for much of our world is out of control. We should seek to learn how to better judge with righteous judgment for the benefit of all concerned.
When you call me judgmental are you not being judgmental? After all, you have also just judged me as being judgmental. WOW! Think and ponder upon this for a moment. Just perhaps we can balance things out by first examining our own motives before we reach a conclusion.
Self-examination is an ongoing part of spiritual growth. It is our attitudes that often need adjusting. Keeping in mind to judge means to analyze or evaluate as well as condemn or avenge. However, whenever we do judge one another it should not be done in a retributive manner but done constructively.
This e-book will enable you to broaden your perspective on the subject of judging.
Pick up a copy of "I Confess That I Am Judgmental" during the Kindle Countdown promotion starting 9/23 – 9/30 for
$ .99
Paul was concerned because some of the "Church from Chloe's household" had informed him that there were quarrels among them. Paul realized the need to address the conflict which hindered their spiritual growth. Listen closely to the rebuke. He adamantly expresses the need for a call for genuine repentance, as well as exhortation. Paul's sincere intent was to bring them closer to the Lord.
The Church is supposed to cultivate a passion for daily living for the Lord! Not just attending worship services. The Church was meant to stand for righteousness and be the Spiritual Light of the world. God uses whomever He pleases to fulfill the mission of His Church. According to the Word; "God has chosen the foolish things of the world to put to shame the wise, and God has chosen the weak things of the world to put to shame the things that are mighty; and the base things of the world and the things which are despised God has chosen, and the things which are not, to bring to nothing the things that are, that no flesh should glory in His presence." I Corinthians 1; 27-29
Walking with the Lord is not a role to be played but a life to be lived! This is why Paul says "He who glories, let him glory in the Lord." God is so worthy of all our praise! It is really by and through the power of His Holy Spirit we can attain a deeper ever growing level of intimacy that will enhance your personal walk with Him.
Due to the mindset of many of the Corinthians it was difficult to break the many strongholds. Carnality and spiritual immaturity permeated their atmosphere. Today as well during a service, although emotions and energy may be high it can still be void of spiritual depth. At times the atmosphere is orchestrated to a degree to get the people to react rather than simply naturally respond. God really does know where each of us are in our personal walk with Him.
Paul had to withstand some very severe personal attacks from the Corinthian Church. Their ritualistic traditions often impeded the move of the Holy Spirt. Paul was troubled to the point he had to defend his beliefs. He had no need to manipulate the people. His desire was to appeal to their conscience. He wanted them to experience the genuine abiding peace of the Lord. Although troubled he remained encouraged and thankful for the Lord's guidance. Despite the persecution he wanted to "…give the light of the knowledge of the Glory of God in the face of Jesus Christ" II Corinthians 4
Paul's concerns have been recorded as a permanent record. In His second letter to the Church in Corinth he continues to relay his sincere concerns to the struggling congregation due to both internal and external problems. This is why Paul's ongoing desire was for their spiritual growth. Spiritual warfare was all about him. As a rebuttal and deterrent Paul's credibility was questioned. Yet, Paul did not allow this to sidetrack his assignment. We too must remain focused when spiritual warfare presents itself. God in His own time will bring everything to the light. The victory is truly in sincere praise!
Having intimacy in your relationship with the Lord is one of the most important intangible things that you could possibly possess. God knows our place within the body of His Church. This will help you to know that God is a God of all comforts. That nothing comes your way that He is not aware of. God can, and is truly the only one, "who comforts us in all of our troubles, so that we can comfort those who are in trouble, with the comfort we ourselves have been comforted by God…." II Corinthians 1:4.
Paul helps us to know that despite our efforts we can be greatly misunderstood. Sometimes we have to simply show a contrast. Sometimes we just have to simply remain still… Many look for an outer manifestation of the Spirit. Rather than focus on welcoming the indwelling deep inner presence of the Lord. Paul realizes that there is great need for discipline and self control. "Wherefore, we labour, that, whether present, or absent, we may be accepted of HIM. For we must ALL appear before the judgment seat of CHRIST; that everyone may receive the things done in his body, according to that he has done, GOOD or bad…" II Corinthians 4
Paul's writing includes significant teaching on a plethora of issues relating to sin and righteousness. Paul addresses the congregation by stating that he was called by the will of God. This in it self caused much resistance. In I Corinthians he dealt with the diversity of sexual sins and what happens when God's plan for marriage and family are disobeyed see 7:1-40. He addressed the fact how proper worship flows from us by sincerely acknowledging God's place in our life see 3:16-23. The pure significance of partaking in the Lord's Supper see 11:17-34. Paul continues in significant detail a discussion on the effectiveness of exercising spiritual gifts as to when and how they should be properly exercised or not? Harmony and order were desired whenever they assembled. Christ really does deserve to always be the "Mainstay" of all our worship!
God has bestowed upon us the blessing of His Holy Spirit to abide within and to assist us in living a life pleasing in His sight. You must ask for this infilling presence daily. I encourage you to take some time to get to really know the Lord intimately. His Word has cleansing power. Repent of any and all sin before it ferments. Commence to really delve deeply into the meat of His Word. We can be sure and confident that God's Word is infallible. Exercise your faith and entrust your future to the Lord. I declare, no matter what comes your way God will see you through! Christ birth, life, death and resurrection has taken away the veil. Nothing stands between you and God but you and any unconfessed sin. The Word of God is able to cleanse us from all unrighteousness.
God is truly faithful! We can always and forever trust GOD and HIS WORD!

We can go boldly before the throne of Grace! If you have not already, start from this day forward living a life of worship. I assure you, you will not only feel better and become healthier, but you will see more clearly! "Therefore, since through God's mercy we have this ministry, we do not lose heart. Rather, we have renounced secret and shameful ways; we do not use deception, nor do we distort the Word of God. On the contrary by setting forth the Truth plainly we commend ourselves to every man's conscience in the sight of God. And even if our gospel is veiled, it is veiled to those who are perishing. The god of this age has blinded the minds of unbelievers, so that they cannot see the light of the GOSPEL of the glory of Christ who is the image of God. For we do not preach ourselves, but Jesus Christ, as Lord, and ourselves as your servants for Jesus; sake………." II Corinthians 4:1-5
When you are faced with the cares, ills, grief's, trials and concerns of life know that God sees you as a treasure. He loves us so much that He sent Jesus to redeem us from the power of sin. This is why we ALL need HIM as LORD and SAVIOR! Allow Him His place in your life! God is the same God yesterday, today and for evermore through everlasting. Intimacy with Him will help you to know that whenever; "We are hard pressed on every side, yet not crushed, we are perplexed, but not in despair, persecuted, but not forsaken; struck down, but not destroyed-always carrying about in the body the dying of the Lord Jesus, that the life of Jesus also may be manifested in our body…"
You never have to loose heart with the Lord. Examine yourself to see whether you are in the faith? Ask Him to fill you with His presence each day and remain focused. God wants to perfect us! Simply meaning He wants to mature us and complete us! God wants you to experience His peace that surpasses the understanding of man. God is willing, ready and able to walk with you 24/7.
We are living in some interesting times. Some of everything is going on. Take a look all around the world and see to what unusual extremes madness is occurring on a multiplicity of levels. Wars, rumors of wars, senseless shootings, extreme weather conditions, corruption, moral boundaries diminished, there is an endless plethora of disturbing occurrences… The Word of God is fulfilling itself. As you take time in the Word you will better understand the extent of the increasing spiritual warfare. It has permeated every aspect of life. You don't have to be afraid. But aware. It is so important to know GOD and HIS WORD for yourself. This way you can be certain to where you will spend eternity.
Intimacy will help you to know that the Lord knows and can see the things you can't see. To know He knows and will reveal all and everything you need to know in order to live and worship Him each and every day yields security. Intimacy with God should be your desired destination. Now step out on faith and really begin to put your hope and trust in Him! "May the grace of the Lord Jesus Christ, and the love of God, and the communion of the Holy Spirit be with you…………" Everyday; To GOD be the GLORY!
How Compatible are We? Ready for Intimacy? Commitment? The Marriage Bed? In-laws or Out-laws?
Many couples spend a great deal of time planning their wedding, but little time planning their marriage. They have not taken the time to have candid open discussion as to what happens after the wedding. Planning your wedding is important, but so is planning your marriage.
How Do I Love Thee:Food For Thought Before You Say "I DO" is a mini-premarital guide to be used by couples, counselors, and clergy. It addresses many of the major subjects couples should discuss prior to marriage.
Included are interactive lessons and assignments for the couple which are designed to motivate serious thought about love, compatibility, commitment, finances, accountability, responsibility, dealing with the in-laws, the marriage bed, and more.
Enter the Goodreads Book Giveaway below for a chance to win a FREE autographed copy.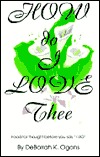 Image by Jean_Jullien

God wants His Grace to be with us
God is an omnipotent, gracious, kind & loving God. It is through His grace and compassion that He created this world for us to live in that we inhabit. Grace is God's unmerited favor, it is His elegant extravagant divine kindness extended toward us. God always loves us because He is love and God wants His grace to be with us! Truly God is the Most High God above Him is no other! He is the Great "I AM!"
The Hebrew word for grace is hased. It is derived from the word hesad which means to be good or kind. The Greek word for grace is charis it is derived from the word char which means wellbeing pleasant or delightful. God's grace has been bestowed upon us through Jesus Christ. "From the fullness of His grace we have all received one blessing after another. For the law was given through Moses; Grace & Truth came through Jesus Christ." John 1 The Word teaches us that we are saved by the Grace of God. "For it is by grace you have been saved through faith — and this is not of yourselves, it is a gift from God – not by works, so that no one can boast, less anyone should boast." Ephesians 2.
If you ever wonder how life on earth began take some time and study the Book of Genesis. Genesis means beginning or origin. It contains an authentic record of creation. It is by God's graciousness that He created this world for us to live in. He created mankind for His Glory. "In the beginning God created the Heavens and the earth. Now the earth was formless and empty, darkness was upon the face of the deep, and the Spirit of God was hovering over the waters." Genesis 1
It is clear that God existed before anything else. God is omnipresent He is everywhere at the same time, He is infinitely immeasurable. Our infinitesimal minds cannot comprehend the totality of God who is limitless. He created the Heavens and the earth through His Word Jesus Christ who had not yet manifested within a body of sinless flesh, yet He was with the Father from the beginning in Spirit. This is an amazing truth that we believe through the Faith He has instilled within us who embrace His infallible Word! There is absolutely nothing that has ever happened or will happen in Heaven or earth that God is not totally aware of. He is omniscient He knows everything that has happened, is happening and will happen. It is God's desire that we draw closer to Him daily!
Everything that God made was good! God wants us to experience the goodness of His grace. "In Him we have redemption through His blood, the forgiveness of sins, in accordance with the riches of God's Grace that He lavished on us with all wisdom and understanding. And made known the mystery of His will according to His good pleasure, which He purposed in Christ, to be put into effect when the times will have reached their fulfillment — to bring all things in Heaven and on earth together under One Head, even Christ!" Ephesians 1
God created and provided everything for Adam & Eve that was needed or necessary for them to live a rich full abundant carefree spiritual, emotional and physical life in His presence. He created Adam in His own image, who was the first man. He created them as one. "So God created man in His own image, in the image of God He created him; male and female He created them." Genesis 1 God made Adam from the dust of the ground. He then placed Adam into a deep sleep, and took one of his rib bones. From the rib bone that was taken from Adam God miraculously created him a companion wife to be by his side! They both were as one, God named them Adam. Marriage was created by God. God's grace was upon them. It was not until after they had disobeyed and sinned that Adam named his wife Eve. Adam & Eve was the first couple and they lived in harmony with the Lord until they disobeyed. From Peter we learn that the Lord extends His grace to us in marriage. It is important that God is or becomes the center of your marriage. "Husbands, likewise, dwell with them in understanding, giving honor to the wife, as to the weaker vessel, and as being heirs together of the grace of life, that your prayers may not be hindered." 1Peter 3
God's Grace was with Adam & Eve from the very beginning.

"IF my people, which are called by my name, shall humble themselves, and PRAY, and SEEK my face, and TURN from their wicked ways; then will I hear from heaven, and will forgive their sin, and WILL HEAL THEIR LAND."
II CHRONICLES 7
Why is it we have more denominations, more conferences, more televised and internet broadcasts, more modes of worship both traditional and non traditional. Congregations of every size. Some small, medium, large, extra large or mega style, yet so many people continue to overlook the WORD of GOD? The WORD is a Powerful Wellspring that yields Spiritual, Emotional & Physical Healing, but we must first embrace and apply it to our daily lives!
GOD is always speaking, but we must get better at listening! " WE NEED TO PRAY! "
This is how we "HEAL THE LAND"
https://www.bing.com/images/search?view=detailV2&ccid=d4jorUC6&
Christianity is much more than just a religion! It is so much more than a social club. In general, for many, religion has turned into a manufactured system where rules are dictated, regulated and policies are made. Quite often there is an ever increasing list of do's and dont's to conform to, which sometimes go so far as to require a staunch or restrictive dress code. Often actually forsaking the Power of the Holy Spirit's ability to transform the individual's life from the inside out! The Holy Spirit is the ultimate Spiritual Guide and Teacher! The Word of God teaches us that true worshipers worship the Father "In Spirit and in TRUTH!" John 4.
Keep in mind that the LORD is the most HIGH GOD who desires to continually transform the lives of devoted believers and reach out to the world! Above Him is no other! Without the Lord one is disconnected and is but a wretched lost human being, living aimlessly in the flesh without promise of eternal life! Once we accept Jesus Christ as Lord and Savior we then have purpose and are adopted into the family of God! We embark upon a life of becoming enlightened, spiritual growth and being renewed as we apply His godly principles to our own lives. The Promise of Eternal Life waits as we grow spiritually realizing that we are forever "becoming…" As long as there is breath in the body there is Hope! NEVER underestimate the POWER of the LORD! "What is impossible with man is POSSIBLE WITH GOD!
God intended for Christianity to be a daily lifestyle centered on Him! Christianity consists of the process by which we can learn the origins of man and draw closer to our Creator and Governor of the universe! We can discover more about the Father, the Son and the Holy Spirit and commence to live life to daily please the LORD! It is the "GOOD NEWS GOSPEL!" The central tenet in the Christian Faith is our belief in JESUS CHRIST and HIS WORD. He actually was God incarnate within sinless human flesh. The world was spoken into existence through Jesus! He actually became the WORD wrapped in flesh! "In the beginning was the WORD, and the WORD was with GOD, and the WORD was GOD. He was with GOD from the beginning. Through HIM ALL things were made; without HIM nothing was made that has been made. In HIM was life, and that life was the LIGHT of men…" John 1. Acceptance of Him as Lord and Savior is a definite requirement for all Christians. He reconciles us to the Most High God and gives us the gift of Salvation and the inheritance of Eternal life!
Secular Beliefs
Let's take a momentary glance into the secular perception of religion from a widely respected source. Dr. Sigmund Freud, who is well known for his psychoanalytical theories, perspective on religion says:" Religious faith produces a repression of impulses and thus keeps the personality secure at the expense of honesty." He is recognized as the father of "Psychoanalysis." He also developed many of the concepts in *Psychology." It is here the mind and behaviors are studied.
"Psychology is the study of the mental processes and behavior. The term psychology comes from the Greek word psyche meaning "breath, spirit, soul" and the logia meaning "study of." Psychology emerged from biology and philosophy and is closely linked to other disciplines including sociology, medicine, linguistics and anthropology.
Freud believed that the actual drive-oriented nature is overlooked because the aspect of human nature has long been suppressed by religion. People in their insecurity begin to look for a cosmic father in order to compensate for their feelings of inferiority and insecurity. Freud also believed that religious activities are rituals of compulsive behavior that are employed to temporarily ease the intense guilt feelings that are fostered by religion. Likewise Christians neurotically try to free themselves of guilt feelings by performing religious rituals. Freud also maintains that the dependency fostered by religion causes infantile regression.
Much to my dismay there is a minuscule element of truth in what Freud believed in regards to religion. I do not personally embrace his theories of psychology. But many do hide behind the guise of religion. There is a tendency to project a façade where things appear to be alright. They often go along with the majority and conform in order to feel connected to their particular group but remain insecure within themselves as an individual… There is often much ambivalence and unrest in their conscious relationship to God personally. They feel distant from Him trying to fill the inner void with some of everything!
Whenever the soul is not really anchored; the philosophies in regards to the origins of man becomes a playground for answers.
Whenever GOD is not the center of one's religion one can regress into this sea of uncertainty. Nothing is infallible and there is much doubt as to what has already been proven to be true! What was wrong becomes right and therefore one becomes polluted by the world. The world continues to migrate further and further away from God as Creator and the principles of His Word. Anything can be a religion. God is a Spirit and must be worshiped in Spirit & in Truth! Many religious folks modify His Word to adjust to the current desires of society. We can learn much from the Word of God. When His principles are abandoned there is a downward shift in the overall moral standards. Keep in mind GOD wants us to be spiritual beings that believe, embrace, implement and trust His Word!
The Bible does not ever contradict itself! The New Testament has fulfilled the prophecies of the Old Testament! There is no other book like the Bible! It is an extraordinarily remarkable library of infallible spiritual wisdom that is inclusive of 66 books! It cannot be fully grasped by the intellectual mind alone. One must solicit the Holy Spirit to intervene and illuminate the significant meanings of its plethora of Scriptures. It is also the all time best seller! In order to not be lead astray it is important to know for yourself what the Word of God says! We as Christians believe and accept the TRUTH of GOD'S WORD by FAITH! This is why we are called "Believers." When Christians follow the ways of the world rather than embrace the Word they usually have not actually taken the time to build an up close personal intimate "one on one" relationship with the Lord.
It is only with the Lord can one discover true "Security & Significance!" There is a tendency to encourage focusing on the outer rituals and traditions rather than to intrinsically search within to see where the true problem lies to resolve any inner conflict. The inner anxiety or unresolved issues can then become ongoing baggage that is carried throughout life producing anxiety when it is not addressed. God wants us to become whole! He wants us to take responsibility for our actions and take a stand for our rights. He wants to write His laws upon our hearts! Inner Peace can be experienced when one readily repents (turns from) any wrong behavior and moves forward… God does not want us bogged down in guilt nor shackled to any uncivilized or inappropriate behavior. He wants us to be FREE! There are very good reasons why He has said DO NOT do some things! The world says do as you please! God wants us to become disciplined! A disciple is a learner! God wants to deliver us from whatever hinders us from growing spiritually and becoming all that He created us to be He wants us to; "Take My yoke upon you and learn of me. For I am gentle and humble of heart and you will find rest for your soul…" Matthew 11. This is why He has given us JESUS CHRIST to "SAVE" us from the power of sin reigning within our daily lives! GOD IS MORE THAN ABLE!
Jesus died to take upon Himself the sins of the world and make it possible for us to become directly reconnected back to GOD! Sin had widened the abyss between God and man. The Father, The Son and The Holy Spirit are One! Jesus His only begotten Son humbled Himself to come to earth. He was Divine! Shaped in the image of GOD In the form of a man covered in sinless flesh, He overcame sin for us because He loved us so! Jesus bridged the gap between God and man and became the only "PERFECT" example! He arose with ALL power and took away the sting of death and sin. His Holy Spirit is our Comforter! We can now go straight to GOD wherever we are at anytime. He knows everything past, present and future about everyone and everything! This is why we all need Jesus Christ as Savior and LORD! He can and will make a significant difference in our life! God wants and up close and personal relationship with each one of us! We were created for HIS GLORY! Now that's LOVE!
Prayer is communication with GOD and we need to regularly spend quality time with Him! His Word tells us in I Thessalonians 5; "Pray without ceasing, give Thanks in ALL circumstances, for this is God's Will for you in Christ Jesus." This is a continual mode of interacting with the Lord! We are able to consistently become aware of HIS PRESENCE! There is nowhere we can go that God is not… As the people of GOD, there must be a growing daily focus on our personal relationship with the LORD that becomes more an more natural. We are able to grow spiritually each day. God's Church is collectively all over the world made up of a diverse multiplicity of people of all races, colors and creeds that believe His Word! Whenever are wherever we come together and assemble as His Church we will be much more effective when we have spent time with Him throughout the week! We are to apply His principles to our own lives and allow Him to guide us as He works out the kinks in our lives. Life is about becoming "perfected" which means to become completed in Him! We can invite Him into the "Messiness" of our lives! We can also worship Him more freely as we draw near to Him! Worship becomes a part of our daily lifestyle.
I truly believe that it is the intentions of many to have God's will done in their life. The desire to please man and to be accepted often supersedes the spiritual responsibility to be led by the Spirit. This is where the conflict lies… There is much spiritual warfare to entice believers away from GOD and to keep non believers from embracing God personally and intimately! We learn in Genesis that God created us in His own image. ( I don't mean looking like Him) In essence we are spiritual and relational beings. We have been created for God's purpose. Until we arrive at the point that helps us realize just that, we can often unconsciously create more adversity and anxiety in our lives trying to adapt and please man. This in turn can and will at times create a mental deficiency because the deep void remains. This void can be filled by many things… But they never really quite satisfy. God has a place within us that only He can fill. Ideally speaking; Did you know that if we were all following the Lord we truly would be on one accord. There would also be a lot less schisms and division within the Body of Christ!
Religion ritualistically practiced often focuses on the exterior. Encouraging others to worship in a way they deem appropriate by their denomination or non denomination at a certain time rather than ascertain a truly intimate relationship with the Lord. What do you mean? A few examples! If you are too quiet you can be perceived as standoffish and unemotional! If you don't speak in tongues you don't have the Holy Spirit! If you wear makeup you are being carnal… If you don't pay tithes… If you do not wear long dresses or cover your head… If you don't come to the service every Sunday… If you shout and pray loud you are… If you are quite emotional it can be perceived as being more spiritual… If you are… The point is worship is personal and the object of our worship should be the LORD. The wonderful thing about God is HE KNOWS ALL of our hearts! God wants you to be the best You! Conforming to be accepted can leave one with an ever greater void. The Word tells us the proper way to worship God is to be led by His Holy Spirit! Remember! "GOD is a SPIRIT and HIS worshipers worship HIM in SPIRIT and in TRUTH!" John 4.
In many cases it is not said in an audible language, yet there is a penalty for not adhering to what is expected, sometimes resulting in labeling or alienation. Many are far few and in between that have truly experienced the unconditional Love that is so often spoken of. This is nothing new, way back when even the Samaritans, Gentiles and Jews differed in their concept of worship. This is why we currently in this 21st century have so many denominations and varied places of worship. It is important that your chosen place of worship does not compromise the Word of God! Know that ultimately God who is Love is really the only source of unconditional Love! He Loves us because HE is LOVE! It is in HIM you can experience TRUE LOVE, inner fulfillment and PEACE! Spend time each day growing closer to the Lord! The LORD has a purpose and plan just for you…