Spiritual Food For Thought & Spiritual Growth! 3
"Make every effort to live in PEACE with all men and to be HOLY; without HOLINESS, no one will see the LORD. See to it that no one misses the GRACE of GOD and that no bitter root grows up to cause trouble and defile many. See to it that no one is sexually immoral or godless like Esau, who for a single meal sold his inheritance rights as an oldest son." Hebrews 12 ~ WORD FOR TODAY ~
~ THOUGHT FOR TODAY! ~
Sin inhibits our spiritual growth. Many do not like you to talk about sin. They feel that you are judging them and or negative. How interesting because this is exactly what the Prophets did and were called for. They constantly called sin out for what it was. As you spiritually grow you realize that it is important to confront any sin in your life as well as the lives of others. Sin keeps us in darkness separated from GOD!
As you study the WORD of GOD you will see HIS Prophets, Priests, Apostles, Disciples nor HIS SON JESUS CHRIST were not always readily accepted. They suffered persecution, mistreatment, as well as a multiplicity of mental anguish and sometimes even physical abuse. They were often misunderstood yet pressed onward living for the Lord. They steadfastly proclaimed, and preached about the importance of living for the Lord. Their mission to share the marvelous GOSPEL of JESUS CHRIST remained their primary focus.
We who profess to be believers are to walk in the Light!
Today in this 21st century just about anything goes… The Word of God is often set aside to encourage satisfying the desires of the flesh. Most want to feel good rather than; REPENT! God really does have a better way. Know there are healthy ways to feel good without our conscience being convicted. There is a tendency to subliminally enable rather than seek to set free and make whole. We should always encourage self-control. It is part of the Fruit of His Spirit. God loves us and always wants what is best for each of us. God's Love has been so terribly misunderstood.
Holiness for many is a mere option.
Ministry was never meant to make us comfortable with the ways of the world. God has created each of us with a purpose. It is our choice to seek Him daily. Keep your focus upon the Lord. Seek HIS WILL & HIS WAY for your life each day above everything. Allow Him to daily lead you in the Path of Righteousness for His Namesake. Only GOD can give you HIS PEACE that surpasses the understanding of man/woman.
Once we truly accept Jesus Christ into our hearts as Lord and Savior, His Holy Spirit abides within us. In Him you can discover everything for Life & Living that you will ever need! As we embrace the principles of His Word into our hearts and implement them into our lives we grow spiritually. Our LORD & SAVIOR is here to HELP us. To set free and save us from the power of sin reigning within our daily lives. We live to become more aware and walk in the Light!
PRAY!!!
FATHER, May YOUR KINGDOM COME & YOUR WILL & YOUR WAY be done in my life…
We must learn to Trust God! "WALK BY FAITH!" God has promised to put HIS laws within our hearts and write them upon our minds. We can learn so much from HIS Word. PRAY for DISCERNMENT! Whatever you are in need of today God already knows. It is our choice to submit and ask Him to fill us with the presence of HIS HOLY SPIRIT which is always available to lead, guide, direct and protect us 24/7!
HIS HOLY SPIRIT HIS COMFORTER will lead us to ALL TRUTH! In GOD'S time; "ALL things work together for the GOOD for those who LOVE HIM & are the called according to HIS PURPOSE!" Romans 8. You must hide the Word of God within your heart. This helps you to learn how to live to sin less…
"For I am convinced that neither death, nor life, nor angels, nor principalities, nor things present, nor things to come, nor powers, nor height, nor depth, nor any other created thing, will be able to separate us from the love of God, which is in Christ Jesus our Lord" (Rom. 8:38-39).
We must or should daily begin to embrace godly principles for life and living as believers. God has chosen us to live God centered lives. Daily take a spiritual bath in the Word of God! There is POWER in the BLOOD JESUS! "What can wash away my sin, nothing but the BLOOD of JESUS! What can make me whole again. Nothing but the BLOOD of JESUS!" Through the POWER of HIS HOLY SPIRIT we CAN live HOLY lives for the LORD! We are to be "in the world but not of the world!" Grace, Joy & Peace to you. Live each day to please the Lord!
We the people who BELIEVE in JESUS CHRIST and have accepted HIM into our hearts is HIS CHURCH! There is; VICTORY IN JESUS!
"The gates of hell will NOT prevail against the CHURCH of GOD!" PRAISE GOD! & BLESS HIS HOLY NAME! ~

Did you grow up in the Church but; the Church did not grow up in you? Did you regularly attend Church and regularly participate in all the auxiliaries yet, you did not or do not really have a real relationship with the Lord? Do you just go to Church and the moment you are behind closed doors you abandon all of God's principles for living? Do you live Monday thru Saturday conforming to the world? Do you go to Church, study God's Word but don't really understand how to apply it to your own life? Have you or do you truly live a Godly life before your spouse and children or friends and relatives? Are you obedient to your pastor but disrespectful to your spouse? Are you a great Pastor who is a lousy husband? Do you really know what it is to have a personal relationship with the Lord? If the Lord was to return today can you truly say you will be "caught up in the air to meet Him?" Do you know that Jesus really does make a difference in your life? I am not talking about some religious experience. I am asking you these questions to provoke thought.
For many accepting Jesus Christ is a public experience. For many it is a procedure. For many, accepting Jesus Christ means to have your name on a membership role. Go through a basic initial training; decide what auxiliaries you would like to participate in then, jump right in. (I say auxiliary because there was a time when it was unheard of to say ministries.) If you attend regularly, pay your tithes, don't make any waves, nor question the process, you have achieved conversion in the eyes of your trainers? In many cases you are expected to give in and yield to those who are in charge regardless. If you are related to or accepted by the established inner circle it is quite possible that as long as you conform to their wishes you can pretty much do whatever you desire. You do not really have to make any major changes in your personal life. Why? Because you love them and they love you, you have proven successfully that you are teachable, obedient and that you respect authority. They also are heart readers and can determine who is who? Hooray! You are now accepted in to what a very good God given friend of mine calls "the club". Does any of this sound familiar? Did you grow up in the Church but the Church did not grow up in you?
What is the Church? Webster defines Church as; a building of public worship and especially Christian. A body or organization of religious believers. The clergy of a religious body. The Word of God teaches us that HIS people are actually His Church! The Christian Church is really a family of believers who have truly accepted Jesus Christ as their personal Savior and Lord. Who earnestly and faithfully have committed to being governed by God's principles. As long as we remain on this side of heaven there is room for improvement.
Commit means to; put in trust. To cosign for preservation, disposal or safekeeping, to obligate, bind to and live by. When you commit to live for the Lord; you agree to surrender to His will and His way. You really should live your life from the perspective that God really does see everything. His Holy Spirit becomes your inner guide. You consistently study His Word. As you walk in faith and obedience to God's principles you are strengthened spiritually. You don't conform to the world neither do you disrespect the laws of the land.
The Lord loves us so much He gives us the freedom to choose. In His Word He tells us if you abide in Him He will abide in you. His Divine and Holy Spirit will take up residence in your soul. His Holy Spirit is also known as the Comforter. The Comforter will become your inner guide; The Comforter will make your conscious sensitive and aware of Godly instruction for life and daily living. The Comforter will let you know that Jesus Christ is the "Bread of life" John 6:35. That He is the "True Vine" John 15:1. That He is the "Light of the world" John 8:12. That He is "the way, the Truth, and the life." John 14:6
God will give you a mentally sound mind. It is your choice to continue to sharpen it with His Word. PRAY FOR DISCERNMENT!
Ask yourself have you really chosen God's way? Have you changed or just outwardly conformed to be accepted? If this is the case you will have very little self discipline. Nor will you have true inner peace. If you have truly changed there is an inner metamorphosis. You will begin to walk in the fruit of His Spirit. Do you really seek the truth? Or do you seek to prove and accept what is false? Is Jesus truly important in your home, job, career and life? Did you grow up in the Church but the Church did not grow up in you?
Keeping The Lines of Communication Open
SEXtexting & TEENS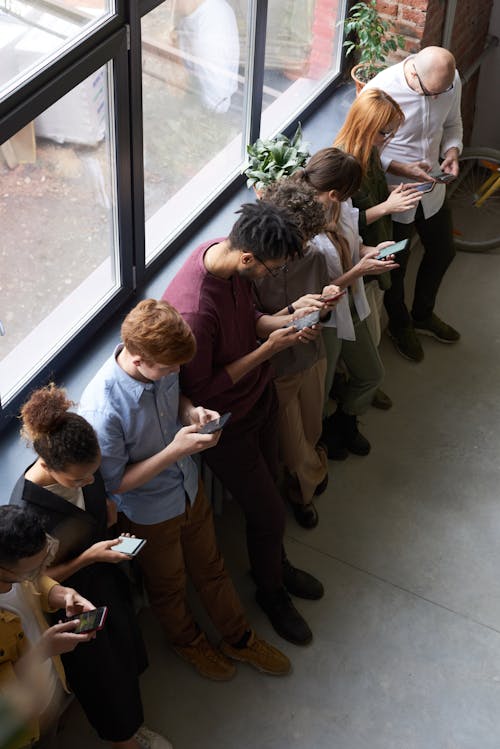 Do you have TEENS?
Living in this audacious, adventurous 21st century with all its technological advances has its advantages. You can keep the lines of communication open or stay in constant contact with anyone at anytime, just about anywhere in the world. You can call, talk, track or text message when you have the right, GPS system, computer, smart phone, I pod, television, blue tooth ear piece, Nintendo DSI, mobile devices or some other…
How often do you get a text?
On the other hand it is hard for some to just "be" in the moment, because they are always texting and calling someone else while in your presence. Their attention is divided between you and somewhere or some else? The quality of time spent is usually minimized. They have a hard time just being in the moment or giving their undivided attention to what's going on "right now". Having the capability to be accessible is great. But I believe it is really getting out of hand. Perhaps there should be some "rules of etiquette " honored and accountability exercised when alone or while in public or in the presence of others? And what about the teens?
Reina Hardesty is young lady now. When she was but a 13 year old teen, from Southern California, She was an amazing, creative, prolific texter. How she ever managed to get anything else done I wonder? She actually sent approximately 500 texts daily that totaled 14,528 text in one month. It is a good thing that her father had unlimited texting plan. Otherwise, at 20 cents per text his bill would have been somewhere around a whopping $2,905!!! After her parents found out they set some boundaries "no texting after dinner."
Boundaries are good they make us feel safe!
I wonder what texting almost 24/7 does as far as their overall health is concerned? How much healthy sleep can one get? How much time for homework or anything else for that matter? Is texting addicting? At what point is it considered so…
Wait there's more! Emilee Cox, another witty, vivacious, energetic, teen texter at 14 years young, smashed Reina's record. At 74 text per each hour she was awake, she texted over 35,000 text in one month. She also managed to get good grades.
Miley Cyrus who was a popular teen idol a while back, favorite hobby was going shopping. She really liked Chinese Food and watching "High School Musical with her sisters too. But apparently the famous Miley Cyrus and her older boyfriend were caught texting during Church service way back when. They thought they were being discreet "They got busted! But look at Miley now she is making some interesting videos that I don't think Hannah Montana's parents would let her watch…" She is baring before the world her birthday suit. No doubt that the many Hollywood inconsistent unstable lifestyles she has been exposed to has greatly influenced her once quite innocent wholesome behavior. It is important that we give this generation godly relationship models. These are just a few examples of why good role models are needed.
It is important that we keep the lines of communication open with our teenagers. Peer pressure is real. There is always something lurking to pull them off track. For emergencies cell phones are fantastic! We should always be concerned with what is gong on with our young people. They need guidance. The ability to stay in contact is a plus. But here too we also need to establish some "rules of cell phone etiquette." Especially for our minors before they excel to major problems. These 21st century teens have taken texting to a whole new level.
Here are a few more stats,
*Texting of this nature is nothing new. According to a 2008 Nielsen study, teenagers between the ages of 13 to 17 " to an average of 1,742 texts a month.
Sextexting is also becoming a growing trend among teens. Sextexting is when revealing photos or messages are sent across a cell phone. It is actuallly flirting with danger. You do not always know how large or who your audience really is. Teens that are caught could possibly be prosecuted as sex offenders. Unknowingly they send pictures or messages with improper content that once they have been published they cannot be retrieved. it is just not a good idea to get so personal anyway. On many occasions they have sent messages to a friend, who sent it to a friend and that friend sent it to … Right now this is even being pursued by some prosecutors to possibly be considered as "child pornography". So it is important to have a serious chat with them about being careful in this area. Nothing more than "G" rated texting allowed!
Oprah Winfrey even dedicated a whole television show to the perils of America's newest "OBSESSION" = texting while driving! Did you know that when you text or use a cell phone while driving you significantly increase the chances of having an accident? It is the equivalent of having 4 drinks while driving! You are driving with a decreased attention span. It is called "Distracted Driving! " You are not only putting your life in jeopardy but the lives of many others as well! The show is inclusive of many who have experienced the consequences of someone using a cell phone while driving. The statistics of the many casualties are mesmerizing and alarming!
Ms Winfrey asks that everyone designate their car as a '"NO PHONE ZONE!" She goes so far to have a campaign asking you to sign a contract agreeing to do so. The contract is available on her website! During the show one mother is interviewed. Her story; As she approaches her home after a Dr.'s appointment she sees a little girl lying in the streets surrounded by a crowd! She sees a mangled bike… Much to her dismay the distraught mother realizes it is her little girl and the emergency crew are attempting to pull her clothes off ……. The little girl was "15 PEDALS " FROM HER FRONT DOOR! The driver was on her cell phone! After intensive care in the hospital two days later her beautiful little girl dies…
This is one of many. This show is a must see!!
Texting while driving is also hazardous. No sneaking a text in because no one's watching. Watch the road! Another big, No! No! We need to be in contact but we also need to give them guidelines. I think that a simple contract might possibly be a viable solution. If they are old enough to have a cell phone they should be responsible enough to make a contract that is reviewed often and renegotiated when or if necessary. Hmmmm possibly limiting their calling by giving them a restricted calling plan? Knowing that you are going to randomly review their messages, Hmmm…This really is to let them know that you care enough to take the time to show that you are concerned and they matter. Of course they won't see it this way…
In this high tech society it may be hard. But, keeping the lines of communication open is important! Let them know you are there for them and they matter! Give them kudos whenever the opportunity arises. It is crucial and beneficial to make sure that you take the time to spend quality time with them without a television, computer, smart phone, I pod, CD player, blue tooth ear piece or some other distraction… Having some great one on one personal quality time is a most. By the way giving them some healthy boundaries helps them feel secure. Giving them boundaries and restrictions lets them know that you care enough to say "No!" and mean it. They might not like it all the time but you should be more concerned about what is best for them rather than what they want? If they have strayed into the jungle of this world; It is never too late to help them turn their lives around. There is no POWER stronger than TRUE LOVE! They so need a dose of true love. You should be a parent before you are a friend to your child. If you are a friend you should model and uphold God's standards to your friends. Your children will grow up soon enough and can then do however they please. But the modeled godly principles will have a long lingering effect upon their conscious. You may lose and gain some friends in the course of life when you take a strong godly stance but in the end it is worth it. Either way you will have been a good friend… As believers our first priority and agenda should be to say: "it is written!" Not to hurt but to bring forth spiritual, emotional and physical healing Nothing is more precious than time! It goes by really fast. Really get to know your teens; just maybe they won't feel the need to take up sextexting?