~ Parental Alienation is Real! ~
Ladies if you did not have a good relationship with your father, or did not know him, and now you do not have a good relationship with your husband, now your ex-husband, or father(s) of your children; you can "Break the Cycle of Cognitive Distortions!"
Don't allow the same void to exist within their life. Do not pass down generational trauma. If you are a single mother, please do not hinder or prevent your children from having a good relationship with their father. If you are a single father the same also applies, please do not hinder or prevent your children from having a good relationship with their mother. You both should want better for your children. You both should have what is best for the children as a top priority. Remember you both are responsible for them being here. Keep in mind your children are entrusted to you as a parent(s) but they actually belong to God.
GOD IS MORE THAN ABLE!!! With the HELP of the LORD you can break the cycle! God can meet you right where you are and get you where you need to be…
Of course, you want to always be concerned about the well-being of your children. Therefore, make it clear to them as well as the father/mother you want them to develop a safe healthy relationship. You cannot change what has been. If necessary tell them you want to move forward and start anew.
There is much spiritual warfare to alter God's original design for marriage and families… Parental Alienation is real! Allow GOD to bring PEACE, to your heart, home and children!
Sad but true there are some instances where places of worship have also been the catalysts for abetting division among families. Not fully knowing what is happening in the relationships assumptions are made. They have on occasion fostered environments that acrimoniously embrace one parent over the other. And often unknowingly actually support divisive parental alienation.
Everyone is not qualified or able to give wise healthy family counsel. Be careful and PRAYERFUL who you allow to speak into your life as well as the life of your children.
Parental Alienation Defined
"Parental alienation is a theorized process through which a child becomes estranged from one parent as the result of the psychological manipulation of another parent. The child's estrangement may manifest itself as fear, disrespect or hostility toward the distant parent, and may extend to additional relatives or parties. The child's estrangement is disproportionate to any acts or conduct attributable to the alienated parent. *Parental alienation can occur in any family unit, but is claimed to occur most often within the context of family separation, particularly when legal proceedings are involved,[6] although the participation of professionals such as lawyers, judges and psychologists may also contribute to conflict.[7]
Proponents of the concept of parental alienation assert that it is primarily motivated by one parent's desire to exclude the other parent from their child's life.[8] Some assert that parental alienation should be diagnosable in children as a mental disorder.[9] Some propose that parental alienation be recognized as a form of child abuse or family violence.[2][10] They assert that parental alienation creates stress on the alienated parent and the child,[11][12] and significantly increases the child's lifetime risk of mental illness.[13][14][15]…( See more on Wikipedia ) *This is true in many counties in some more than others.
It is important to know that children belong to God and are entrusted to their parents! They need good role models. It is becoming more and more difficult to find balanced wise role models in this day and age for children. A good parent knows that their well-being is always a top priority. You should always consult GOD and HIS WORD for direction. God holds all of us accountable for how we raise and influence our children as well as others.
~ Parental Alienation is Real! ~
Know this; You cannot take the place of their father. Nor can the father take your place.
GOD IS MORE THAN ALBE TO DIRECT & HELP YOU! Truly having the LORD in your daily life will make all the difference in the world. If this not the caste start now!
God from the beginning of time has designed life in such a way that reproduction/procreation of life takes a man and a woman to produce a child. Together strive and thrive to help them become secure and whole in who they are. They need to be loved, nurtured and given healthy boundaries. They need to know that they have the right to speak up for themselves! They also need to know that God is everywhere and is always with them. Teach them that they can call upon Him at any time & anywhere. Allow GOD to bring PEACE to your heart, home and children!
A healthy family is important! Dysfunction does not have to be the norm…
After marriage the family is the greatest institution that God created. Read carefully throughout Genesis and all throughout GOD'S WORD the high priority He has for healthy spiritual relationships within the family. God is omnipotent, omniscient, and omnipresent, as well as our Creator and Maker. He is the Giver and Sustainer of life. He always knows what is best for all of us. But He has given us the freedom to choose His will and way over the ways of the world. He knows what has been, what is happening now and what will be in the future. It is wise to humble yourself and commit to submit to Him. Invite Him into your situation and allow Him to direct your path from here…
God can keep you on the Narrow Path that leads to Him. Or if you have strayed, He can get you back wherever you need to be. Salvation is all about getting a grip on sin. Sin is anything that separates us from God. Let NO ONE take the place of GOD within your life. Look to God to help you see clearly wherever you have gone astray. REPENT!!! WHICH SIMPLY MEANS TO TURN FROM SIN AND TURN BACK TO GOD! He has given us our Lord and Savior Jesus Christ to save us from allowing the power of sin to reign within our daily lives. As well He has given us HIS precious Holy Spirit and Comforter to lead us to all TRUTH!
The well-being of your children should always be a top priority! Give up your insecurity, hurt as well as resentment… ALLOW GOD to bring healing to you, your children, your home and your hearts. GOD is the ULTIMATE FATHER above Him there is NONE OTHER! Truly He can heal, lead, guide, direct, protect and provide a far better life for you and your children. He will meet you wherever you are and can get you wherever you need to be. Yes, with God, you can become whole!
Always keep in mind that God is omniscient, and He knows absolutely everything that has happened will happen and what is going on now. It is in the best interest of all that are concerned to work towards building a better future for the children. To circumvent less turbulence in their formative teenage years…
Parental Alienation continues to grow all over the world. It is part of the overall spiritual warfare designed to get your life off track. It persists especially in high conflict relationships and divorces… This world is on a "slippery slope." It is not going to get better. Today you can find a support group for just about anything, even support for the things that go against the WORD of GOD. PRAY FOR DISCERNMENT! Many of the carnal ways of the world have nested themselves in the amidst of God's Church. LORD HELP US!!! As believers, "We are to be in the world but NOT of the world!" GOD HAS A BETTER WAY! Do seek HIS WILL and HIS WAY above the ways of this world. Yes, with the HELP of GOD you can "BREAK THE CYCLE!"

LORD HAVE MERCY!!!
STOP the madness!!!
"DRAW NIGH TO GOD AND HE WILL DRAW NIGH TO YOU!"
~ JESUS! JESUS!! JESUS!!! ~

WE SERVE AN OMNIPRESENT, OMNISCIENT, OMNIPOTENT GOD!
GOD IS OUR CREATOR & MAKER. THE EARTH IS HIS FOOTSTOOL. HIS THRONE IS HEAVEN. AND OUR BODIES ARE HIS TEMPLE WHERE HIS HOLY SPIRIT/HIS COMFORTER RESIDES. WE HIS PEOPLE ARE HIS CHURCH!
Who is CHRIST JESUS? "in HIM we have redemption through HIS BLOOD, EVEN THE FORGIVENESS of sins.

Who is the image of the invisible GOD, the first-born of every creature. For by HIM all things were created that are in Heaven, and that are in the earth, visible and invisible, whether thrones or dominions, or principalities or powers ALL things were created by Him and for HIM.

And HE is before all things and by Him all things consist. and He is the Head of the Body, The CHURCH, who is the beginning, the first-born from the dead, that in all things HE might have the pre-eminence." Colossians 1
Earth is GOD'S Footstool
This is what the LORD says about HIS FOOTSTOOL
"Thus saith the LORD, The heaven is my throne, and the earth is my footstool; where is the house that ye build unto me? and where is the place of my rest?" Isaiah 66
Did you know GOD is even greater than the heavens. Everything was spoken into existence through HIS Living Word Christ Jesus!
Remember this earth where we live is the Lord's footstool!
Yes, we can gather together in the many places of worship. It is truly wonderful to want to worship & praise the Lord! Do welcome the presence of GOD all around you. Yes do, congregate together to worship, pray & praise the Lord. Make sure wherever you assemble is safe… But know that this is not where GOD lives. We who are believers are to live a life of worship. Know that HIS HOLY SPIRIT is present everywhere. There is nowhere that GOD is not. When you really believe this you will live, be and think differently. As a matter of fact GOD has created us to daily worship HIM. Worship continues in Heaven.
"AND YOU SHALL KNOW THE TRUTH AND THE TRUTH SHALL SET YOU FREE!"
There is much that has crept in amidst GOD'S CHURCH that is NOT of HIM! "The WHEAT AND the tares are growing together." MATTHEW 13 PRAY FOR DISCERNMENT!
KNOW GOD lives within the Hearts of HIS PEOPLE who are HIS CHURCH!
God is infinite and immeasurable
It is important to know that God is beyond infinite! He is so much greater than our little finite minds can ever totally conceive. Whatever your perception of GOD is; He is so much greater. We cannot minimalize God or reduce Him to our human comprehension. But we can get a better understanding of who He is through His Word!
GOD is omnipresent and HE cannot be restricted to any one place. No one can contain GOD! For He is absolutely illimitable and without boundaries. He is extensively inconceivable and immeasurable.
Heaven is HIS Throne
This is what the LORD says about HIS THRONE:
"The LORD is in HIS Holy Temple, the LORD'S throne is in Heaven: HIS eyes behold, HIS eyelids, try the children of men/women. Psalm 11
GOD'S THRONE IS HEAVEN!
GOD is incorporeal. HE is not human flesh. HE IS A SPIRIT! His throne is not akin to a big literal chair as we deem fit for royalty. The throne represents God's supreme sovereignty. Here is where HIS Holy Power and Authority are divinely evident. Heaven itself is the LORD'S THRONE.
"But I say to you, Swear not at all neither by Heaven; for it is the LORD'S throne; Nor by earth; for it is HIS footstool; neither by Jerusalem; for it is the city of the Great King… "Matthew 5
"…Behold I stand at the door and knock. if any man/woman hear my voice, and open the door, I will come in to him/her, and will sup with him/her, And he/she with Me. To him/her that overcometh will I grant to sit with Me in My throne, even as I also overcame, and am set down with MY FATHER in HIS THRONE. He/She that hath an ear, let him/her hear what the SPIRIT SAITH UNTO THE CHURCHES." Revelation 3
GOD is always available. You just have to be willing to seek HIM!
Christ Jesus is the Son of God
CHRIST JESUS IS GOD THE FATHER, ONLY BEGOTTEN SON. He came to earth from HEAVEN: and was born of the Virgin Mary within a body of sinless flesh. HE IS THE LIVING WORD OF GOD. "IN THE BEGINNING WAS THE WORD AND THE WORD WAS WITH GOD, AND THE WORD WAS GOD. THE SAME WAS IN THE BEGINNING WITH GOD. ALL THINGS WERE MADE BY HIM; AND WITHOUT HIM WAS NOT ANYTHING MADE THAT WAS MADE…" John 1
CHRIST JESUS overcame sin in the flesh for us. To demonstrate His glorious Love and Power to the powers and principalities that be. To His Church as well as this world. He lived a sinless life. Yet, He was unjustly disrespected, mistreated and persecuted. By those He came to help! Then He was mercilessly beaten, crucified and died upon the cross and was buried… Yet, He arose from the grave with ALL POWER and ascended into Heaven in His glorified body. He is now in Heaven upon His throne. As believers, His Holy Spirit resides within our hearts.
Our Body is HIS Temple
This is what the LORD says about our bodies as Temples
"Know ye that ye are the Temple of GOD, and that the SPIRIT of GOD dwelleth in you. If any man/woman defile the Temple of GOD, him/ her shall GOD destroy, for the Temple of GOD is Holy, which temple ye are…" I Corinthians 3
It is important to know that if you are a believer and have truly accepted Christ Jesus into your heart as your Lord and Savior; Your body is a Temple. Therefore it behooves you to think about this on a deeper level. God wants to be a part of every area of our lives. But it is your choice?
"And what agreement hath the Temple of God with idols? for ye are the Temple of the Living GOD; as God has said, I WILL DWELL IN THEM, AND WALK IN THEM AND I WILL BE THEIR GOD, AND THEY SHALL BE MY PEOPLE. Wherefore, COME OUT, FROM AMONG THEM, AND BE YE SEPARATE, saith the LORD AND TOUCH NOT THE UNCLEAN THING; AND I WILL RECEIVE YOU, AND BE A FATHER UNTO YOU, AND YE SHALL BE MY SONS AND DAUGHTERS, saith the LORD GOD ALMIGHTY." II Corinthians 6
We live in the world but not forever
Yes we are in the world. But we are not to be as the world. Many of the ways of the world have nested themselves among the CHURCH of GOD. It is important to always keep in mind that we "The People of GOD" are HIS CHURCH! Not the building. There are many different places of worship all throughout the world. Some are deeper into the Word of God than others. Know this; upon your personal profession of faith and acceptance of CHRIST JESUS into your heart as your LORD & SAVIOR; SALVATION BY HIS GRACE & ETERNAL LIFE is a precious GIFT from ALMIGHTY GOD! You cannot pay, tithe or earn your way into Heaven. We are not "SAVED BY WORKS!" We are "SAVED BY GOD'S GRACE!" Some are quite steeped into their denominational & non denominational doctrinal beliefs and practices. This is why it is so very important to know the WORD of GOD for yourself.
Earth is not our final destination. We will each live throughout eternity with GOD or without GOD! If you desire to live in Heaven it is important to know that JESUS CHRIST is the only way to Heaven. HE IS GOD'S ONLY BEGOTTEN SON… There is no other way for HE is the ONLY DOOR. He is also Manna meaning; Spiritual Bread from Heaven. He can OR will feed our mind, body & souls. But, it is your choice? He is God's Amazing Living Word! Know today without doubt where you will live throughout eternity.
"…And Jesus said unto them , I AM the BREAD of LIFE; he that cometh to Me shall never hunger, and he that believeth on Me shall never thirst." John 6
"…Then Jesus said unto them, Verily, verily, I say unto you, I AM the Door of the sheep. All that came ever before Me are thieves and robbers; but the sheep did not hear them. I AM the Door; by Me if any man/woman enter in, he/she shall be SAVED and go in and out and find pasture. John 10
GOD knows where everyone all over the world lives and why! There is nothing that He is not aware of past, present or future about anyone. Therefore wherever you are you can reach out to HIM. "Draw nigh to GOD and He will draw nigh to you…" James 4
Where is God?
GOD IS EVERYWHERE! ABOVE THE LORD THERE IS NO OTHER!
For HE is our Omnipresent, Omniscient, Omnipotent, GOD!
As long as GOD allows us to remain on HIS earth there is more to experience & learn. Each day is a day to grow closer to the Lord. To truly know Love is to know GOD for; "GOD IS LOVE!" And a part of HIS LOVE is correction… GOD'S LOVE IS ETERNAL and it lasts through ETERNITY.
"Live Out Loud The GOSPEL!"
The Apostle Paul gives A Message from the LORD on "MARS HILL"
Ponder and meditate upon this;
"…God made the world and all things therein, seeing that HE is LORD of Heaven and earth dwelleth not in Temples made with hands.
Neither is worshipped with mens/women's hands, as though HE needed any thing, seeing HE giveth to all, life, and breath and all things,
And hath made of one blood all nations of Men/Women for to dwell on the face of the earth, and hath determined the times appointed, and the bounds of their habitation;
That they should seek the LORD, if haply they might feel after HIM, though HE be not far from any of us!
For it is in HIM we live, and move and have our being; as certain also of your own poets have said, For we are also HIS-offspring… " ACTS 1
Know who you are in the LORD!
Have you ever struggled to find a church ? Remember the church is not the building. Wherever and whenever you worship know this;
"TRUE WORSHIPPERS MUST WORSHIP THE LORD IN SPIRIT & IN TRUTH" Let's be GOD'S CHURCH everyday and everywhere. Everyday live: "TO GOD BE THE GLORY!"
CHRIST JESUS IS THE HEAD OF HIS CHURCH! Know this; GOD has only ONE CHURCH and it is made up of all different colors of PEOPLE, cultures and nations from all over the world who believe in GOD, and have truly accepted CHRIST JESUS into their heart as their SAVIOR & LORD!
CHRIST JESUS IS THE WAY THE TRUTH AND THE LIFE!
*Please watch the video below!
This is the second book in The Enchanting Legends of Shiloh Mansion series.
Eliza, Faith, and Daniel, the time traveling smart teens are off on another adventure to the Enchanting Legends. In Book 1 they visited "The Young King". This time they visit a runaway prophet who decided to disobey God's direction and plans for his life. He soon realizes there is no place you can go to hide or get away from God.
The earth is the LORD's, and the fullness thereof; the world, and them that dwell therein. God will use whomever and whatever he wants to accomplish His plan.
Here in "The Big Catch!" Cousin Eva also goes on an adventure of her own. But Eva was not aware of the imps who were waiting to capture her. All she knew was that she was not to ever go into or even near the forest.
The smart teens continue to witness the truths and principles from the Book of I AM as they unfold before their very eyes.
Click Here to get your copy of "The Enchanting Legends of Shiloh Mansion:The Big Catch!"
Book Release & FREE Giveaway– The Enchanting Legends of Shiloh Mansion: The Young King" (Expanded Edition)
Just released: the Expanded Edition of "The Enchanting Legends of Shiloh Mansion: The Young King". This edition includes pictures of some of the sites visited by the time traveling smart teens (Eliza, Faith, and Daniel) not included in the first edition, as well as additional story line to enhance the reader's experience.
For a limited time (7/18 – 7/22/18), you can get a FREE copy of the Expanded Edition e-book from Amazon.
If you don't have the first edition download this FREE e-book so you can familiarize yourself with these Enchanting Legends, Shiloh Mansion, and the characters in the story. Reading this first book in the series will help you better experience additional books in the The Enchanting Legends series.
Click Here to get your FREE e-book
Coming Soon!! The release of the second book in the The Enchanting Legends series.
Are you looking for a good Christian YA Fiction book – one that has supernatural and high tech themes but not filled with vampires, witches and similar themes that are so prevalent in a lot of teen novels these days? This may be just the book you're looking for. Enter for a chance to win 1 of 5 author signed copies. This Giveaway has ended.
Dressing Up for Prom and dressing down for worship!
Part 2
Today many feel it is better to dress down for worship so everyone will be comfortable. They think that this will put everyone at ease? But if you are attending a Sweetheart Dance, Prom or Fashion Show or celebrating Valentine's Day, or going out for a nice dinner then it's proper etiquette to dress up. When Christmas or Resurrection Day/Easter rolls around you can also dress up if you like as well. You want to look nice for those pictures with Santa or the Easter Bunny.
However, you still might get a few stares if you come to worship looking like you are wearing your tithes and offerings!
A little humor is always good. But we need to seriously take a look at just how blurred the lines are. I see the trend. But what or who do we give more honor to, perhaps, what others think about us. God wants to be a part of every area of our lives!
Worship is important!
Worship adoration, devotion and praise are important. We ought to worship and praise our Lord daily. Imagine if every believer really did. What a grand marvelous time we would have whenever we all got together. It would not be simply a release your burden day. Sunday is important! CHRISTmas is important! Resurrection Day is important! Each day is important because it may be your last.
Everyday strive and thrive with God. Make it a priority to spend time in His presence during the week. Honoring God daily is important. Worship is a time for reflecting upon all that the Lord has done for us. Jesus Christ's sinless life, crucifixion, death & resurrection are all very important.
Every time we come to together it really is important to worship the Lord. You can do this sitting or standing. Quietly or in Forte` mode! There needs to be a balance. Sunday Worship really is the ultimate Red Carpet Affair! "OH THE BLOOD!" Jesus Christ shed HIS precious SINLESS BLOOD and atoned for the sins of the whole world. WOW! Without HIM becoming the Ultimate Holy Sacrifice; none of us would be able to enter into Heaven. There is cleansing POWER in the BLOOD! What is more important than that?
Your choice DRESS UP or dress down
How important is it to dress for worship? Some are even subconsciously encouraged to dress down thinking this means that they will have more money to give for the offering? God can and will supply All that is needed. This is true for His church as well. The CHURCH needs to trust GOD more…
Whatever happened to proper etiquette or being well groomed? Just because? We have thrown it out the window and replaced it with "dress down." It is the new way to express you. To show that you are humble? Or is it just plain laziness? Or is it conforming to the world's standards? Here is the dilemma it is hard to tell sometimes where am I? I did not hang out in bars or night clubs. But I can still recognize a hangover. Am I in worship or am I on a cruise or at the park? No I do not have Alzheimer's; if I did it wouldn't matter!
God truly is the Great "I AM!" God is The Most High God above Him is no other. Worship is about us recognizing Him as the King of Kings and the Lord of Lords! When you leave worship you should leave knowing more about HIM & HIS WORD! The Word teaches us; "Do not conform any longer to the pattern of this world, but be transformed by the renewing of your mind. Then you will be able to test and approve what GOD'S WILL IS – HIS GOOD, pleasing and PERFECT WILL." Romans 12. So why have we; God's Church begun to conform to the dress standards of the world?
When we dress up we look like we are material right? Well clothes are made out of material. Just because you have on a pair of jeans and a tee shirt does not mean that you are any less material! Have you seen the price of some of these jeans and tennis shoes & T shirts? It does not matter how much you did or did not pay for it. You can be quite material and have nothing…
What is your priority?
You have the freedom to dress however it is you want, when and where you go. My question is what is your priority? We must really begin to think on a much deeper level.
Did you know that children behave better when they are dressed? Taking the time to dress them tells them you care. If it is just in a T shirt let it be neatly pressed and tidy. At the park let them at least go in clean if they come out dirty fine… When my children were young I took them everywhere I went. I made sure that they were well fed, well dressed, loved and well attended.
We as a family attended Worship during the week and on most Sunday's all day long, all year long. They were well behaved, polite and respectful. They had plenty opportunity to run and play in the back yard freely once they got home and put on their play clothes. Children actually feel better about themselves when they know you give them TLC as well! Even they know innately that when you are in certain attire you need to stop fooling around and pay more attention. There is a time and place for everything.
I know when you are dressed up it means that you are too cute to worship? Know this is a judgment you are making. Now whose judgmental? However that only applies to certain people. Lord Help us! Absolutely Not!
Notice how the Royal family in England is always fit for the occasion. We have attended worship in England. Even when they dress down they properly present themselves. Unless you catch them under the privacy of their own residences under a camera you will not see them dressed scantly or inappropriately. In their private residences they should have the freedom and privacy to walk around as they please even if it's nude. How would anyone know unless they infringed upon their privacy rights. In His time God will deal with those who do this.
Remember Adam and Eve were naked and not ashamed. (Once they sinned God made them coats of fur skins…) The point is there is a proper time to dress or undress or be naked. Modesty is good. We can learn a thing or two from them. Well, guess what nothing or no one is more important than GOD! Through Jesus Christ we are a part of The Most High God's Royal Family!
It is hard for me to believe that Solomon via God's instructions built that first magnificent Temple for seven long years; then said dress down or wear your sweats. Or your most comfortable clothes. Notice how detailed the temple and its contents are described in the Word. I do not think in its entire splendor that the people came dressed like "ragamuffins" when they came to worship!
We have missed the point!
When slavery was prominent in America the slaves even knew that on Sunday or during worship that they dressed up and presented themselves in proper attire. It was a time to leave the tasks and hardships of slavery, lay them aside momentarily and focus on worshipping the Lord! They honored the Lord above their slave master, pastor and everything else. Even if they did not have shoes they took the time to clean up well and present themselves in their best attire!
The Colored/African American/Black worship services in general continues to encourage dressing up to a degree in your better attire. Some of the long standing cultural traditional congregations throughout the world also elect to make a conscious effort to present themselves to the Lord in a certain manner. Some opt to dress down in the warmer months; however I believe that one should still dress no less than they do for any special occasion, work or school. Despite how others chose to present themselves my mother and father was keen on proper etiquette. As people of Color I was taught to recognize that as a lady it's important to present yourself in proper dress attire wherever you are!
I realize that we differ as to what is perceived as to what or whom is proper. For many this will change as to what is going on in or about worship on a particular day. Or until someone decides we need to do something different just because? Think about it? Was this true (200) two hundred years ago?
We the people are GOD'S CHURCH not the building.
Always remember that God's Church is the people not the building. Sunday worship services are still somewhat segregated in some places. Closer to our home there are some really large mega worship centers and you see blended services. We attend many types of worship services in small, large or mega size buildings. We know God's Church is actually a collective body of all colors and cultures all over the world. We who have accepted Christ Jesus into our hearts as Savior & Lord are His True Church. God has only "ONE CHURCH!" We are to daily seek His Will & His Way and embrace and live out the principles of His Word. What is most important that we represent Him in a way that is pleasing in his sight wherever we are.
Revelation gives us an excellent visual of the "New Jerusalem" the Holy City in Heaven. It is fabulously splendid. It is absolutely Awesome, so much so that the streets are paved with translucent gold. The walls are made of fine gemstones of sapphire, emeralds, sardonyx, chalcedony, jasper and… The twelve gates are made of a fine single humongous pearl! WOW! Think about it! Hmm just does not seem to me that throwing on a wrinkled T shirt and a pair of old baggy jeans, skirt or leggings would be appropriate. No wonder why the ambiance in worship has drastically changed right along with the dress code. However, there is an unspoken code. It means if you are in the in crowd you can pretty much dress as you please and no one will take offense. Many do not respect the sacredness of worship anymore.
Nothing is sacred to some anymore
They are now trying to pass laws so that it's okay if you have a gun license you can come to worship packing a gun. This is what life has come to in these "Latter Days." This further shows that you can prepare to expect just about anything. Jut maybe this is also why we are having all these random shootings everywhere. Nothing is sacred to anyone!
Foreign countries uphold a better standard for worship than we do here in the United States. For example when we visited Vatican City in Rome we were told that in order to enter St. Peter's Basilica the women needed to be covered properly and would not be able to enter unless they were properly attired! They maintain a standard that one must at least be presentable. After all is not the Church the Bride of Christ! Ponder and think about that for a moment! Would you dress up if you were meeting the President?
Ponder this for a moment. You are welcome to disagree. I know it's because I am a child of the 50's! Everyone wore a tie and dressed up for most occasions way back when. No, it's because there is nothing, no occasion, dance or prom or no one more important than God! Therefore we need to put our best self forward. God knows us all from the inside out! We are not fooling Him. At least we can honor Him in how we present ourselves for worship! There is always an exception to the rule. If you are homeless that's different, if you are mentally ill that's different, if you really do not have anything to wear that's different too.
Yes, "Come as you are!" But;
"Come as you are!" Yes, but you will not "Stay as you are!" The Word of God transforms us from the inside out. At some point you will begin to feel better about yourself and want to step it up a bit! Why is that? Believers are supposed to live each day as though the Lord was going to return. If Heaven is going to be your Eternal Home I suggest you begin here on earth getting prepared for Kingdom living! Even if you still decide to wear jeans and a T shirt, let be done neatly! & Please no matter what size you are; No really tight dresses, No low cut dresses or blouses and sweaters. And please definitely NO sagging pants. These are not appropriate. Think for a moment; Above all make sure that you would be comfortable in whatever you decide to wear expecting that our Lord was going to be there. Or come at anytime!
"Your will be done Lord! Your Kingdom come on earth as it is in Heaven." Lord we are down here waiting on your return when everyone will see you breaking through the sky! Come Lord!
Dressing up for Prom and dressing down for Worship!
Part 1
This 21st century is becoming progressively more interesting in a very bizarre manner. We are living in a time when just about anything goes! We can go almost anywhere and expect to see some of everything. You can see multiple piercings on the ears, lips, forehead, eyebrows, cheeks, neck, and head or just about anywhere on the body. Let's not even discuss the places that we don't see.
Oh my! It makes you wonder why so many want to inflict themselves with so much pain…
Glitter and glam
You can see glitter glam clothes or faces. Pink, royal blue, purple, burgundy, yellow and even green bold hair colors on both male and females. It has become acceptable for many to even walk around with their pants sagging below the buttocks! You can go to the shopping mall and see many clad in pajamas and slippers and guess what they are just out shopping; so what does it matter? Let's not forget the jeans with holes in them. The old shorter than short "Daisy Duke" jean shorts are even trying to make their way to the forefront. WOW!
I know everyone wants to be comfortable or they just want to as the ole song says "Express Yourself!" So it has become socially tolerable to just dress down whenever or wherever. After all we are not hurting anyone.
But what does this all say? No matter why our youth are so confused. Too many mixed messages.
Think about this for a moment or two!
Who gets the right to determine what is right? If so what are the guidelines?
Your most important occassion
What is the most important event or occasion that you will attend? Is it a wedding, red carpet affair, birthday party, concert, funeral, job interview or perhaps a prom? How do you dress for the occasion? If it is a wedding, you probably want to wear your best? Or maybe not? Why is that; because it has become acceptable to dress just any kind of way; right?
Well, what about going to worship? You should just "come as you are." If you have not been a part of God's Church it is understandable. But if you have been a part of the Church for a while you might want to ask yourself; to whom or where do you present your best other than at worship?
GOD'S CHURCH is the BRIDE of CHRIST
Did you know that the Church is the Bride of Christ? We the people are His Church. The Church has begun to blend right in with the world.
It is becoming harder and harder to distinguish the difference unless it is a special occasion. But should not every time we come together for worship be a special occasion?
It's okay if you wear a suit and tie or business casual pantsuit, dress or blouse and slacks to the office if you are a manager or a CEO or CIO! But if I want to wear flip flops and cut offs it should not matter especially since I still get my work done. I just want to be comfortable and I don't want to wait until casual Friday. What happened to the basic dress code? It really does matter how you present yourself!
Hmm I guess God is not interested in how we dress? "Therefore, I urge you, brothers/sisters in view of God's mercy, to offer your bodies as living sacrifices, holy and pleasing to God this is your spiritual act of worship. Do not conform any longer to the pattern of this world, but be transformed by the renewing of your mind…" Romans 12. What does this have to do with how I am dressed? A lot!
It's clear here that we are not supposed to conform to the ways of the world. Notice how The Church has begun to pattern its dress after the standards of the world. This has even filtered over into going to worship. I guess we should really just want to hang out and sip a cup of coffee, pass the popcorn, eat doughnuts and be comfortable here too? I hope you are getting my point?
Perhaps this is why so many more are comfortable in sinful lifestyles. God is Love! A part of love is correction. Therefore we need to have more compassion right? Compassion for Christ Jesus who gave His life for us should be expressed as well as for others. What is so interesting during our travel journeys we have been in countries where they would not let certain people enter into the Sanctuary if you did not have on proper attire. There was an attendant at the door to determine if you were presentable. It was not personal, their compassion was because of their respect for the Lord. They simply had a standard they wanted to uphold.
There is nothing wrong with freedom of expression. But what is proper and improper and who determines when or where? Does it matter that I go to worship looking like I'm on my way to the beach? Or if I look like I just woke up and threw on my most comfortable outfit? Or perhaps I was going to mow the lawn and decided to come to worship first. Or just perhaps I am going bowling after service and don't want to make a change? Or perhaps I want to dress like I am going to a dance recital and wear a tutu?
Dressing to go to worship
But it's okay to wear a suit and tie or robe sometimes if you are a pastor, minister, priest, bishop, elder or part of the praise team. Well maybe not because since its "March Madness" everyone can just come in their football jerseys or tee-shirts representing their favorite team. By the way ladies it's okay to just pull on a pair of leggings because the jersey's are as long as some of the dresses and tops you wear? It does not really matter how tight your dress is if you are small, medium, large or extra large… I know you are exercising your freedom but what message are you seding? Oh my! I have just stepped on some toes! What's wrong with wearing jerseys or tee-shirts?
What's wrong with wearing your best?
Hmmm tell me when did going to worship have anything to do with your favorite football or basketball team? I am all for team JESUS!!! But do not penalize me because I do not wear jerseys or T-shirts. Hmmm watch what happens if I show up in casual dress when everyone else is dressed up for a special occasion or program? Let's see who is now exercising; "form and fashion?" Be prepared to get frowns from; the what you should be wearing today committee. Well I'm not looking for approval. Nor am I looking to be seen. Therefore I am going to be led by the Spirit and dress depending on what season it is and what's the weather like. Or dress how I deem is appropriate for the occasion. I know I am just too ole fashion or just plain judgmental? Maybe so!
The point is you need to be aware of who or what you are following and why?
Worship is supposed to be about GOD! Worship is supposed to be about us being thankful and grateful that CHRIST JESUS died on the cross for us! He overcame sin in the flesh, lived a sinless life, was crucified, died, was then buried in a tomb and arose from the dead with all power and authority! What an awesome miracle of all Miracles! We are to give HIM the GLORY! What is so casual about that?
It's okay to pray at the altar and ask for healing, restoration and or some of your physical, emotional, mental or material needs. But before you go to pray for someone don't snicker and talk all throughout worship and laugh and look me up and down and think I am going to take you seriously… But the moment altar call happens you flip the script. You now become a prayer warrior, missionary… This is not a game, nor is it a role to play. Its okay to sit in your seat or to kneel, stand and pray if you prefer. It is also okay to shout, scream, laugh with joy and thankfulness, run around or do whatever? Please make sure you are sincere. "God is not the Author of confusion."
Worship is not "Showtime!" What's so interesting a young lad visiting sat up front next to us one Sunday and he actually asked? "When does the show start?
"GOD is not the Author of Confusion"
The point is the Lord always deserves our respect. We are to give Him honor. Not just say we give Him honor. It is the posture of our hearts that GOD is looking at… GOD can and will supply in HIS time whatever is in HIS Will for us. But prayer and worship really should not be about always asking God for something all the time. Nor about always asking the people to give money to GOD? When you leave you should know more about the Lord and His Word than the people. Worship should be more about GOD and us thanking HIM for allowing us to live on HIS earth and… Worship is actually devotional time set aside to praise and adore the Lord; for all that He has done, is doing and will do! God deserves the PREEMINENCE!
Now how should we present ourselves? Look to the Lord and let Him direct you and not to the masses. I know we ought to be comfortable. We want to make everyone else comfortable too. We don't want anyone to feel like they are being judged or unworthy, or that we are looking down on them? The truth is we all are unworthy. The truth is when you are truly looking up to God you won't feel like you are being looked down upon.
Christ Jesus gave His best which was His holy sanctified sinless life! HE is the KING of King and the LORD of Lords! He sacrificed His precious life on the cross for us all and at least we should make and attempt to put our best foot forward. Not for show but to express He is our best! Above Him is nothing, no thing, no place or no one! He has imputed His righteousness to us who believe.
Know GOD and HIS WORD for yourself!
Do you know the women even went to the tomb to prepare Christ's body to see the Father. Well guess what? Know GOD sees and knows absolutely everything. He knows what our priorities are. GOD IS A HOLY GOD! TRUE WORSHIP REALLY IS TO BE ALL ABOUT GOD!!!
HIS BLOOD has precious priceless cleansing POWER! Praise GOD: "I have been redeemed!"
Dress like you have been redeemed. What if Jesus returned today? Would you want to run home and change?
What if I do not have anything to wear? No problem. God knows! Well what did you wear to that dance you went to, or to that wedding, or the ballet, or that sorority or fraternity dinner, to that job interview or to the prom or any other dress up event? Right; that's different. Think about this for a moment. But you want to "dress down" when you come to worship God!
Consecrate yourself inside and outside for worship
Ponder on this for a moment;
The Old Testament gives us a vivid description of the Temple and the clothing that the priest were adorned in. It is clear that they put their best foot forward. They prepared themselves and consecrated themselves for worship. Many went through purification rituals in order to prepare for worship. Don't wait until you are at worship to pray. Pray before during and after worship. Leviticus has a plethora of laws, guidelines and regulations that had to be adhered to prior to worship. We are not under the law but we need to exercise more discipline.
There has been a gradual shifting down of the dress code as well as the moral behavior… No wonder sin is abounding and "anything goes!" Just perhaps all this dressing down has put the Church in such a relaxed mode that it's made many feel that there is no need to change because we are to just "come as you are!" Yes indeed come as you are! But you are not to stay as you are! God is all about transforming our lives from the inside out!
Keeping The Lines of Communication Open
SEXtexting & TEENS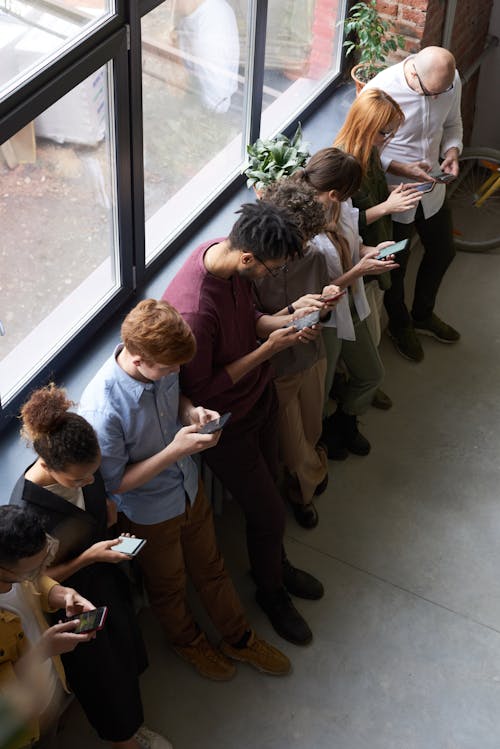 Do you have TEENS?
Living in this audacious, adventurous 21st century with all its technological advances has its advantages. You can keep the lines of communication open or stay in constant contact with anyone at anytime, just about anywhere in the world. You can call, talk, track or text message when you have the right, GPS system, computer, smart phone, I pod, television, blue tooth ear piece, Nintendo DSI, mobile devices or some other…
How often do you get a text?
On the other hand it is hard for some to just "be" in the moment, because they are always texting and calling someone else while in your presence. Their attention is divided between you and somewhere or some else? The quality of time spent is usually minimized. They have a hard time just being in the moment or giving their undivided attention to what's going on "right now". Having the capability to be accessible is great. But I believe it is really getting out of hand. Perhaps there should be some "rules of etiquette " honored and accountability exercised when alone or while in public or in the presence of others? And what about the teens?
Reina Hardesty is young lady now. When she was but a 13 year old teen, from Southern California, She was an amazing, creative, prolific texter. How she ever managed to get anything else done I wonder? She actually sent approximately 500 texts daily that totaled 14,528 text in one month. It is a good thing that her father had unlimited texting plan. Otherwise, at 20 cents per text his bill would have been somewhere around a whopping $2,905!!! After her parents found out they set some boundaries "no texting after dinner."
Boundaries are good they make us feel safe!
I wonder what texting almost 24/7 does as far as their overall health is concerned? How much healthy sleep can one get? How much time for homework or anything else for that matter? Is texting addicting? At what point is it considered so…
Wait there's more! Emilee Cox, another witty, vivacious, energetic, teen texter at 14 years young, smashed Reina's record. At 74 text per each hour she was awake, she texted over 35,000 text in one month. She also managed to get good grades.
Miley Cyrus who was a popular teen idol a while back, favorite hobby was going shopping. She really liked Chinese Food and watching "High School Musical with her sisters too. But apparently the famous Miley Cyrus and her older boyfriend were caught texting during Church service way back when. They thought they were being discreet "They got busted! But look at Miley now she is making some interesting videos that I don't think Hannah Montana's parents would let her watch…" She is baring before the world her birthday suit. No doubt that the many Hollywood inconsistent unstable lifestyles she has been exposed to has greatly influenced her once quite innocent wholesome behavior. It is important that we give this generation godly relationship models. These are just a few examples of why good role models are needed.
It is important that we keep the lines of communication open with our teenagers. Peer pressure is real. There is always something lurking to pull them off track. For emergencies cell phones are fantastic! We should always be concerned with what is gong on with our young people. They need guidance. The ability to stay in contact is a plus. But here too we also need to establish some "rules of cell phone etiquette." Especially for our minors before they excel to major problems. These 21st century teens have taken texting to a whole new level.
Here are a few more stats,
*Texting of this nature is nothing new. According to a 2008 Nielsen study, teenagers between the ages of 13 to 17 " to an average of 1,742 texts a month.
Sextexting is also becoming a growing trend among teens. Sextexting is when revealing photos or messages are sent across a cell phone. It is actuallly flirting with danger. You do not always know how large or who your audience really is. Teens that are caught could possibly be prosecuted as sex offenders. Unknowingly they send pictures or messages with improper content that once they have been published they cannot be retrieved. it is just not a good idea to get so personal anyway. On many occasions they have sent messages to a friend, who sent it to a friend and that friend sent it to … Right now this is even being pursued by some prosecutors to possibly be considered as "child pornography". So it is important to have a serious chat with them about being careful in this area. Nothing more than "G" rated texting allowed!
Oprah Winfrey even dedicated a whole television show to the perils of America's newest "OBSESSION" = texting while driving! Did you know that when you text or use a cell phone while driving you significantly increase the chances of having an accident? It is the equivalent of having 4 drinks while driving! You are driving with a decreased attention span. It is called "Distracted Driving! " You are not only putting your life in jeopardy but the lives of many others as well! The show is inclusive of many who have experienced the consequences of someone using a cell phone while driving. The statistics of the many casualties are mesmerizing and alarming!
Ms Winfrey asks that everyone designate their car as a '"NO PHONE ZONE!" She goes so far to have a campaign asking you to sign a contract agreeing to do so. The contract is available on her website! During the show one mother is interviewed. Her story; As she approaches her home after a Dr.'s appointment she sees a little girl lying in the streets surrounded by a crowd! She sees a mangled bike… Much to her dismay the distraught mother realizes it is her little girl and the emergency crew are attempting to pull her clothes off ……. The little girl was "15 PEDALS " FROM HER FRONT DOOR! The driver was on her cell phone! After intensive care in the hospital two days later her beautiful little girl dies…
This is one of many. This show is a must see!!
Texting while driving is also hazardous. No sneaking a text in because no one's watching. Watch the road! Another big, No! No! We need to be in contact but we also need to give them guidelines. I think that a simple contract might possibly be a viable solution. If they are old enough to have a cell phone they should be responsible enough to make a contract that is reviewed often and renegotiated when or if necessary. Hmmmm possibly limiting their calling by giving them a restricted calling plan? Knowing that you are going to randomly review their messages, Hmmm…This really is to let them know that you care enough to take the time to show that you are concerned and they matter. Of course they won't see it this way…
In this high tech society it may be hard. But, keeping the lines of communication open is important! Let them know you are there for them and they matter! Give them kudos whenever the opportunity arises. It is crucial and beneficial to make sure that you take the time to spend quality time with them without a television, computer, smart phone, I pod, CD player, blue tooth ear piece or some other distraction… Having some great one on one personal quality time is a most. By the way giving them some healthy boundaries helps them feel secure. Giving them boundaries and restrictions lets them know that you care enough to say "No!" and mean it. They might not like it all the time but you should be more concerned about what is best for them rather than what they want? If they have strayed into the jungle of this world; It is never too late to help them turn their lives around. There is no POWER stronger than TRUE LOVE! They so need a dose of true love. You should be a parent before you are a friend to your child. If you are a friend you should model and uphold God's standards to your friends. Your children will grow up soon enough and can then do however they please. But the modeled godly principles will have a long lingering effect upon their conscious. You may lose and gain some friends in the course of life when you take a strong godly stance but in the end it is worth it. Either way you will have been a good friend… As believers our first priority and agenda should be to say: "it is written!" Not to hurt but to bring forth spiritual, emotional and physical healing Nothing is more precious than time! It goes by really fast. Really get to know your teens; just maybe they won't feel the need to take up sextexting?
The Journey Of Life By Julian M. Ogans II
I hike my way up the mountain of self-confidence
Fighting through the bitter cold blizzards of brutal honesty
Wondering what awaits at the top
But very quickly do I lose sight of the trail
and fall down into the river of disappointment
The water reflecting nothing more than my past sins
I slowly drift into a cavern of darkness
The pitch black enveloping me in a dark cloth
Suffocating me with the toxic smell of failure
Whispers from my past slowly invade my mind
Growing louder and louder echoing inside my head
A ray of hope cut through the darkness
But it didn't reach me
For a dark hand pulled me under the water
And drowned me in self pity
I open my mouth to scream, but the black water rushed down my throat
Choking me with all my fears
I gave into my self pity and allowed it to pull me into its deep dark
depths where all my broken dreams lie
Each one shattered into a thousand pieces
The gravity of my self-doubt pushed me further down towards the bottom
While carnivorous nightmares ate away at my body and feasted on all
emotions
They tore away my eyes, preventing me from seeing any sign of hope
Ripped away my ears, stopping me from hearing words of encouragement
And cut out my tongue so that I couldn't scream for help
Little did I realize that not all of my forgotten dreams were broken
Blind, deaf, and muted to the world I grab on to one fragile dream
And use the one weapon that no man, monster, or rushing water
can't take away
My faith
My hands began to grow warm as the dream came to life and sent confidence shooting through my veins
I felt the water rise and part as it shot up in the air
Breaking a hole in the ceiling of the depressing cave
I felt a brilliant ray of hope come down from the sky
Restoring my vision, hearing and my voice!
I rose up from the ground and entered a valley of happiness
Where dreams grow on colossal trees of endless imagination
However, my days here are numbered in this land of prosperity
For I am just one soul, embarking on the journey of life!!