Part 2
Is A Great Marriage Still Viable?
The answer is YES!!!
Today some have opted out of the marriage. Their spouse has not been faithful and or has not or will not repent. Divorce is also sought because both or one spouse was not honest when they married. It is not their intention to work together for a mutually satisfying marriage. Sad put true some marry to get what they can get and leave. Quite often they want what they want when they want it. Their first priority is what they want rather than what is best for the marriage. This can leave the injured spouse in a state of flux. He or she will often overcompensate by continually giving into to their endless wants even to the point of financial despair. This should not be!
What about the children?
Parental disharmony also causes additional conflict within the children. They pick up the vibe between their parents. The children wants become excessive to compensate for their void. Some children will begin to lie and sometime emotionally withdraw. Unconsciously they feel that their well being is a secondary priority. Children usually prefer that their parents stay together. They too begin to act out. The parent who is most concerned must or should then take responsibility and address the needs of the children. Since you are hurting, this is not easy but necessary. It important to instill within your children healthy boundaries.
All too often one or both parents will often over indulge the child or children. They begin to compete for the child's attention. Rather than discipline they will allow the child to become an extension of them. The child then becomes their support. Children vary in their ability to mature. Some are more resilient than others. Children should not be encouraged to become companions for their parents. Nor should they be ignored. They should always be nurtured in a healthy way that further establishes the parent child relationship.
You have a responsibility to your children.
As they get older the children will begin to better understand. Their parents were not able to resolve their conflict which resulted in divorce. Right now in this 21st century we have a generation of children that are confused about "Marriage God's Way" more so than ever before! Although it did not work for you the first, second or even third time; it is important to let them know that God has ordained marriage as the proper relationship for sex. Let them know there is still hope for them for a successful marriage.
Our current and future generations of teenagers have fewer and fewer positive moral traditional role models. Too many fractured marriages and families. This also can cause some of them to question their own sexuality. They wonder if marriage is still even viable? They are all to often seduced to seek alternative ways to satisfy their sometimes overwhelming desire to appease raging hormones… They are often pulled into experimenting with same sex relationships with their peers. Keep the lines of communication open with your children. There are some who wait in the wings to support alternative lifestyles… This can cause them to become confused sexually or possibly even have a tendency towards bi sexual or promiscuity? This does not have to be!
As a believer you have a responsibility to explain to them what God says about marriage. If you don't the world is waiting to teach them otherwise.
Freely share with them what God says about sex in a non threatening way. Keeping in mind you are not trying to incite rebellion. You want them to learn self-control. You want them to realize that there are consequences for our actions. God allows us the freedom to choose. Love is patient so if you are over anxious take some time and chill out. Exercise patience when you are talking to your children. You more than anyone should be willing to model good behavior to them.
You can help prevent them from getting out of control. You can lessen the frequency of this occurring by teaching them the importance of respecting their own bodies. Yes, there is always an exception to the rule. Raising children properly takes a lot of patience, time and sacrifice. If you have not done this get busy now. Letting them know that they are valuable and they have the right to say "NO" to anyone. But most important that they can honor God in their body and its never too late to start!
Yes! A favorable future marriage is still viable…
There is much spiritual warfare that attempts to draw our teens away from God's natural design for sex. This is a vulnerable stage of life for them. Peer pressure is already a constant factor in their lives… How their bodies are beginning to develop is a concern as well. Many of them will not say how they really feel. They will tell you what they think you want to hear. They often will seek unwise advice. Therefore they can be easily led down an ambivalent primrose path that further adds to this already complicated period of growth and development! Instead abstinence and discipline should be encouraged!
Let them know that God is Omnipresent!
Think about this for a moment. Did you know that if no one practiced sex outside of marriage there would be no one to cheat with? Fewer broken homes! Fewer STD'S! Fewer Abortions! Fewer marriages ending in divorces where people are unable to reconcile their differences. In this day and age it is hard to hard to imagine! God has given us His Word to protect us! He has even told us that there is "no temptation common to man that He has not prepared a way of escape."
A committed married monogamous relationship is the only way that God honors a sexual relationship! He has provided and ordained marriage. You see God has designed marriage as the only proper way a man and woman can fulfill their natural sexual desires. He is not the designer of any other method. If you have been taught or thought otherwise you are being fooled. I don't care what Mommy, Daddy, Grandpa, Grandma, Aunt, Uncle, Friend, Doctor, Minister, Pastor. Bishop, Apostle or Foe has said there are consequences! You see it is time out for living in the dark. Especially if you have confessed to be a Christian! It is time to stand up and speak out for what God has said is right.
We must speak the TRUTH in LOVE! Many are so confused about what LOVE really means. They often misunderstand you when you try to LOVE them for real! Loving someone is NOT making them feel comfortable in sin. Nor is it forcing yourself into their personal space. Pray for discernment. Part of LOVE is correction with patience. Sometimes we have to simply "step back." But always PRAY! This is why we ALL so need the LORD! "GOD IS LOVE!" God is always available to help us properly express HIS LOVE!
Sharing the WORD of GOD IS LOVING PEOPLE! So don't water it down. Even if they don't like it. God is quite clear about proper and improper sex! Try reading Roman 1 for starters. Let them take up any objections with the Lord. At some point if they are really seeking TRUTH they will at some point understand. They will eventually see it is because you LOVE them you want them to know what God says.
True ministry is speaking forth and living out loud the Word of God.
Let's really HELP this next generation; these teenagers of this 21st century "where anything goes." Start by giving them better moral role models! Let's open up the lines of communication so they can validate their feelings. They can learn to shift through their feelings and make better choices. Make yourself available to your children. Give them a phone and tell them "to call you anytime they NEED you" HELP them so they do not feel that they have to give parts of themselves away in order to be accepted. If necessary also tell them to REPENT! Let them know that they have the right to say NO to anyone who tries to take advantage of them. Give them more safe "hugs" & quick kisses on their foreheads. (some of them feel too big for kisses)
Give them respect and teach them how to be respectable and to demand respect as well. Remember they watch what we say and do. Make a commitment to be loyal and faithful in your own marriage. Give them better examples and less criticism and more compassion and understanding. Don't encourage them to be sensual. Lovingly tell them when and if they are wrong. But be willing to admit when you are wrong as well. Less bickering and fighting and more constructive ways to resolve conflict such as powerful, loving biblical instructions. Just think if it is hard for adults, it is even harder for teenagers… Lead them by example.
SEXUAL Problems For The Christians Part 3
How Compatible are We? Ready for Intimacy? Commitment? The Marriage Bed? In-laws or Out-laws?
Many couples spend a great deal of time planning their wedding, but little time planning their marriage. They have not taken the time to have candid open discussion as to what happens after the wedding. Planning your wedding is important, but so is planning your marriage.
How Do I Love Thee:Food For Thought Before You Say "I DO" is a mini-premarital guide to be used by couples, counselors, and clergy. It addresses many of the major subjects couples should discuss prior to marriage.
Included are interactive lessons and assignments for the couple which are designed to motivate serious thought about love, compatibility, commitment, finances, accountability, responsibility, dealing with the in-laws, the marriage bed, and more.
Enter the Goodreads Book Giveaway below for a chance to win a FREE autographed copy.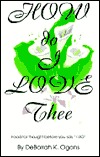 Embracing the Fruit of the Spirit within your marriage "Joy"

Part 2
Joy can be exhilarating and refreshing! Wow! You feel as though you are literally bursting at the seams as though you are elevated to a level of almost inexpressible happiness. Joy at times simply brings a quiet warm feeling of inner contentment. Joy is a fruit of God's Spirit!
God wants you to delight yourself within Him, your marriage and life itself. He wants us to have joy! This does not mean that you won't go through some things, you will. Be open and honest with one another and continuously make your marriage a priority. Joy will help you weather the tempestuous storms of life as they arise. It is from your happier moments you can draw from, when turbulence of any kind hits your marriage.
Marriage and commitment
Marriage is about having a committed relationship. Fidelity is important! Building strong healthy marital boundaries is also important. It is within marriage you can become closer as you build an intimate, trusting and transparent union. Within a loving marriage you both can freely learn to seek pleasure in one another without shame or embarrassment. You both can build a desirable mutually safe place to meet your physical needs.
The Word of God teaches us that; "The Joy of the Lord is your strength!" Nehemiah 8.
Within marriage you can learn to freely give of yourselves to one another. Affection in marriage is important. Every physical encounter does not have to lead to sexual intercourse. Snuggling can be most comforting. God is clear about becoming one as husband and wife. Resting in the arms of one another can be a welcomed safe haven to look forward to. A time to bond.
Good healthy communication is a great asset to having a "Great Marriage!"
Think of your marriage as a wonderful circle. Keep God in the center of your circle. If you have not I suggest that you do. Marriage is the first institution God made. All of us are totally transparent to the Lord. He knows everything about everyone. God is omniscient and there is absolutely nothing or anything hidden to Him anywhere.
Embracing Joy!
You can learn to rise together to overcome challenges that life at time presents, realizing that they are but for a season and do not define your marriage. This is really a time to gain strength and learn to work together. It is a time to really endeavor together to not allow discouragement take up residence although disappointed. Learn to nip things in the bud whenever possible. Being able to enlist "critical thinking" means to objectively assess a situation from many facets. By this you can acquire sound judgment. Staying positive is a real plus. You want to always be aware and know what is happening around you.
There is always HOPE in the LORD!
KEEP GOD AS THE CENTER OF YOUR MARRIAGE!!!
The Lord is the true vine and we are the branches. When we remain connected to Him the fruit of His Spirit will continue to flourish within us. God did not design marriage to leave us on our own to be without His assistance. Keep in mind that He knows everything about everyone. God wants you to have a husband or wife that is willing to commit for life to building a strong healthy loving marriage. He said that "it was not good for man to be alone. I will make him a suitable helper." Genesis 1.
Bone of my bone!
How you together express yourselves physically is between the two of you. There should be mutual respect and consideration for one another. Together you can learn how to pleasure and romance one another. Abandon the world's idea of pleasure which is usually self serving. Think more in terms of of making your spouse happy, safe and content. The desire to come together is natural. After all you are becoming one.
The marriage bed is undefiled. In the eyes of the Lord it is the only honorable place for a man and woman to physically join together. God is the Creator and Sustainer of life. He can help us in every area of life.
When you both are fulfilled physically there is no need to look elsewhere. This will help you fireproof your marriage from the perils of infidelity. There are some very beautiful passages of scripture that reflect the beauty of coming together as one in marriage. The Word teaches us that, "You have stolen my heart, my sister, my bride, you have stolen my heart with on glance of your eyes, with on jewel of your necklace. How delightful is your love, my sister my bride! How much more pleasing is your love than wine and the fragrance of your perfume than any spice! Your lips drop sweetness as the honeycomb, my bride; milk and honey are under your tongue…" Song of Songs 4.
Spend time in the Word alone as well as together. Allow the Lord to speak to your heart. Song of Songs contains a marvelous wealth of passionate poetic scriptures that can enrich and enhance your marriage and love life.
Becoming One!
Whoever you join yourself to becomes part of you. This is why you want to be selective in whom you marry. As your hearts continue to knit together you both can learn to freely share the essence of who you are intimately, spiritually, emotionally and physically. Marriage is about two becoming; "bone of my bones and flesh of my flesh." Genesis 1. You are the most invaluable gift that you have to give to your spouse. Spiritual Oneness within marriage brings supreme joy!
"TOGETHERNESS" is part of a healthy marriage. It is the essence of marital spiritual oneness. Even when you are apart you remain sensitive to one another's needs. You are not needy but secure in your covenant marriage. You also seek to together make your home a loving, safe, warm, inviting sanctuary away from the world…
Having a date night is important. It can be simple or elegant. Or you can actually live out your marriage as an ongoing date… Refresh your marriage and keeping the embers of love burning should be a priority. This keeps your marriage interesting and your joy flowing. A committed monogamous marriage creates an environment where you both can safely get your needs met. Devotion, commitment, loyalty and respect are key ingredients in any good covenant marriage. Make it a goal to live a life of quality. Keep God in the center of your marriage. You honor God when you honor your marriage. When we love with godly love, we can also experience His everlasting love, joy, peace and the "security & significance" that is only found in God Almighty. Remember; "Greater is He that is within me than he that is in the world…"
How Compatible are We? Ready for Intimacy? Commitment? The Marriage Bed? In-laws or Out-laws?
How Do I Love Thee:Food For Thought Before You Say "I DO" is a mini-premarital guide to be used by couples, counselors, and clergy. It addresses many of the major subjects couples should discuss prior to marriage.Included are interactive lessons and assignments for the couple which are designed to motivate serious thought about love, compatibility, commitment, finances, accountability, responsibility, dealing with the in-laws, the marriage bed, and more.
A Kindle Countdown promotion will run on Amazon from 1/2/2016 – 1/9/2016. During this period you can get a limited-time discount on this premarital book.
Starting 1/2/2016 you can download a copy of the book starting at $ .99. Click on the book to visit Amazon and pick up your copy. The sooner you purchase, the larger the discount.
What does it mean to love someone? Does it mean you give them everything they want? Does it mean letting someone run over you? Does it mean you tell them what they want to hear? Does it mean you never make them angry? Does love ever end?
Webster defines love in this way; strong affection for another based on kinship ties.
Example: maternal love for a child. Attraction based on sexual desire. Admiration or benevolence. Warm attachment, enthusiasm, or devotion. A beloved person: Darling. Brotherly concern for others. To hold dear. To feel a lover's passion, devotion, or tenderness. An unselfish concern of God for man.
The scriptures tell us that "God is Love."
Tell me can you really truly love someone and not know God? Or better yet to the degree you know God; does it help you love in a profound way? According to I Corinthians 13 LOVE…….is PATIENT…….is KIND…….does not ENVY……. does not BOAST……. Is not PROUD…..is not SELFISH. Keeps no record of wrong doings…….does not DELIGHT in EVIL….but REJOICES in TRUTH. Always protects. Always TRUSTS. Always HOPES. Always PERSEVERES.
Does your definition of love encompass Biblical principles? Guess what? Well, whenever the above are not in operation it is not love. We all should seek to improve how we respond in love. Guard the Love the Lord Blesses you with!
I have found that love is a term that many people use loosely.
If you listen clearly they usually base love on doing or not doing something for them. Love is not giving someone what they want. Love is not letting people run over you. Love is not telling people what they want to hear. If you love them you will speak the truth in love. Just know when you truly love people they will get angry with you sometimes! Learn to be "angry and sin not!"

I am eternally grateful that the LORD has bestowed His Love upon our lives and our marriage. I can say we genuinely love, appreciate and respect one another as husband and wife. It is not something we take for granted. We both are able to stand firm as individuals in what and who we believe in. Together we have faithfully allowed the Lord Center Place within our marriage. We have traveled the world together and thoroughly enjoy spending quality time with one another.
We are thankful to Abba Father God's Holy Spirit His Comforter. There is never question as to His Divine intervention in bringing us together. This was confirmed by our late Elder Pastor/mentor. He told us it was important to not let anything come between the "circle" of our God given love. We have held his godly wisdom dear to our hearts for many decades… We have always appreciated and respected the spiritual "One-ness" that is attainable in "HOLY MATRIMONY!" It has helped us to weather the storms of life as well as the plethora of mountaintop experiences. We enjoy, genuinely love, respect, trust without doubt and care passionately for another. Know this in God's eyes "The marriage bed is undefiled!" By God's grace we have raised our children in a balanced, loving, healthy, stable, safe environment. This is something our children can also attest to. Christ Jesus is our best witness.
I am most thankful for God given coping skills.
There is a Joy and an unexplainable Peace that is present even in the midst of sickness, sorrow, contention or spiritual warfare. The HOLY SPIRIT is a wonderful SPIRITUAL COUNSELOR! GOD'S TRUTH is POWERFUL. It will not allow you to freely move in denial but rather seek TRUTH. (ABSOLUTELY NOTHING ANYWHERE IS HIDDEN TO THE LORD) A lie will keep you in bondage. There is no place in truth for delusional illusions to persists. I/we Thank the LORD for "Sound Minds!" And an undoubtable constant awareness of GOD'S OMNIPRESENCE everywhere you are. Always seek the TRUTH above all else… I fully realize without the Lord I am nothing but walking breathing shaped formed dust. Yet in Him I am confident knowing that within me His Holy Spirit resides.
As we submit to the "WILL & WAY" of the LORD HIS HOLY SPIRIT leads us to ALL TRUTH!
It is important to readily strive to resolve conflict. It only serves to limit your own "Walking in the Spirit!" Feelings need to be validated. Discipline needs to be embraced when responding or not responding. Confrontation exercised from the perspective; "this is how you feel" Be willing to "REPENT" whenever in error. Choose freely the path of spiritual growth Move forward allowing the Lord to build your character. Don't let life make you bitter always strive to "BECOME BETTER!" Life is so very precious and you do not want to spend the majority of your marriage and your relationships in "much ado!" You get stronger in this as you practice it.
There are those who have lived with much turmoil.
Rather than seek to resolve their inner turmoil they tend to continue to create it. They will often project how they are feeling upon you. Pray for Discernment!
Whenever you are dealing with someone who does not really understand love they will often misinterpret your intentions. Their perspective of you will fluctuate. They base everything on their feelings. Not usually looking at what they have done or said to make the relationship go south. Yet, you suddenly are no longer the kind wonderful person that they thought you were? All of a sudden you will be perceived as being cold, uncaring, and selfish. But yesterday you were the greatest… But now since you won't let them have something or do something you are cold. Yet they have done little or nothing.
Go figure? Watch the double mindedness. They will accuse you of not really loving them when you don't give them what they want. Know they are hurting and want you to hurt too. This is not the case in a healthy marriage or relationship. Even when you disagree you will reinforce your love for one another. You know one another and don't try to reduce one another to a lower standard. You can disagree respectfully. Patience is key!
Don't fret! God knows your heart. Pray for them. (In a trusting relationship you don't go here…) Stand fast. Be patient and allow the Lord to bring what is really happening to the forefront. Don't manipulate or don't allow anyone to manipulate you. Seek the Lord fervently for direction. In the meantime pray for them. Begin to practice healthy boundaries with them. Or you will engage in a continuous cycle of dysfunction.
Many people are angry about life in general
There are many angry people who will chew you out at the drop of a hat. They have oodles of pent up unresolved anger. Cancer, high blood pressure, eating disorders, temper tantrums and depression are just a few results of stored anger and or unresolved conflict. It's okay for them to have a tantrum. Its okay for them to vent and rant. Its okay for them to do very little. Like a spoiled child they want what they want right now. Usually at your expense. You are of course prideful yet they are justified. You are expected to appease them.
Anger is natural. It takes discipline to combat anger. Encourage them to learn to be patient and find healthy ways to express their anger. Suppressing anger is unhealthy. Just know it takes more control to not respond than to throw a fit. Did you know you can be angry and sin not?
By the way you must let go of some people you love. I am not talking about letting go like in divorce. Divorce occurs because two adults are not able to work through whatever problems they are experiencing. They are not able to keep the commitment they made to each other for whatever reason. Often this is because they really didn't think things through first. The responsibility to nurture the marriage is not mutual.
Live and Thrive to build a lasting marriage
Many couples are unaware of the necessary tenacity for building an enduring marriage. There are also those who come to marriage to get rather than to give. They have been so hurt that they remain insulated from learning how to really love and keep the vows that they made. Sometimes they will exit selfishly living behind a wall of shame… (But that's another column/sermonette). When I say letting go I mean putting them in hands of the Lord. Allow Him to intervene.
There are those who just enjoy a habitat of tension and confusion. They will often go the mile with a coworker or a friend and their spouse receives the leftovers. Therefore their relationship suffers. Or as a friend you will have to carry the load the majority of the time. They tend to participate in just about everything at their place of worship, or work related activities, yet their home life suffers and takes secondary place. Their need for acceptance by others is their main priority. This should not be. It is clear that they don't perceive or understand God's Omnipresence.
Anger and dysfunction need to be confronted. Avoiding conflict is not healthy. Did you know you could break unhealthy cycles by employing better ways to resolve conflict? Allowing a cooling off period before discussing the problem may be helpful. Always seek direction from the Lord He will never lead you wrong. He will help you to humble yourself. Learn to walk in meekness. Which is power under disciplined control.
Sharing a one sided account of what has happened to your friends will not help your relationship. It may get you some momentary support. But it won't help you to grow spiritually. Words spoken in a fit of anger can be very damaging. Taking responsibility for your actions is always a step in the right direction. Letting go and allowing them space to feel the consequences for their actions can be beneficial to their spiritual maturity.
The world is a very inconsistent place.
God's standards are not often respected nor appreciated by many. This is true in ministry as well. God must be the central focus of your life and relationships for true successful living as a believer. Life will present challenges. But with the help of the Lord; He can and will deliver you through it all. The prophets pleaded over and over with God's people to return to His principles. But many still preferred to do their own thing. Knowing the WORD of GOD for yourself is important. God wants to be first in your life. Remember after all you claim you belong to Him?
As believers we have been grafted into His family. He wants us to know Him through His Word. God has instructed us to; "Hear O Israel: the Lord our God is one Lord. And thou shalt love the Lord thy God with all thine heart, and with all thine soul, and with all thine might. And thou shalt teach them diligently unto they children and talk of them when thou sittest in thine house, and when thou walkest……. (Deuteronomy 6) God loves us and is faithful. ALL HIS WORD IS TRUE.
"GOD IS LOVE!" HIS LOVE LASTS THROUGH ETERNITY
Love will help you weather the storms of life. Love must be balanced. The term "unconditional love" is often misused today. I often hear SOME SAY; "I can do without your kind of love." Well, "your kind or my kind of love" is not love at all. This is really more about how you are feeling in the moment. Remember, God sets the standard for love, for "God is Love" Unless we measure it by His standards it's merely subjective opinion. For example; the more I don't rock your boat you love me. Once you rock my boat I tell you to get out. Now all of a sudden you cry, "You don't love me anymore." As long as I let you rock my boat it's thought of as love. This does not have to be. WRONG! This is immaturity. How can something as important as Love be reduced to such insignificant terms. This is what I call "intoxicating affections." It mimics love and doesn't last.
Don't get love confused with how you feel in the moment. You can not like what someone does and still love them. It is love that actually helps you to respond properly or not respond to them despite the way you feel. Somethings will not be understood util we reach Heaven. Remember God's love rejoices in the truth! Although it can be painful shift through what someone says to you and see if there is any truth in it. Make an adjustment whenever necessary. This is how you shape your character. Beware of counterfeit love. When you have been truly loved you will know the difference.
In a healthy marriage or relationship you do not seek to reduce the love you have for one another. You take responsibility for your actions and how you are feeling.
There are only a few that find genuine LOVE.
But God really wants this for all of us. Love is precious! It is never too late to seek GOD'S LOVE! This is true if you are married or single. "Be ye perfect because I AM Perfect" God really does wants us to become perfect in HIM. Which means to become complete in HIM who IS LOVE! No one is flawless but JESUS. This is why we all need HIM as SAVIOR & LORD! HE says; we ALL CAN BECOME PERFECT in HIM! Scriptures tells us that love covers a multitude of faults. This does not mean we ignore or condone sinful habits. Don't be deceived. There are consequences for sin. This is why it is so very important to know His Word for yourself!
Growing your love in a healthy marriage or genuine relationship should be a mutual priority!
We are living in some interesting times when some of everything is happening all over the world. The Spiritual Warfare in these "Last Days" has heightened. The devil's agenda is to reek extreme havoc upon the children of God as well as those in the world. He will use whoever he can. He knows that time is winding UP!
Now is a good time to seek the Lord above all else. In the Word, God says; "Is anyone of you in trouble! He should PRAY!" James 5 Humble yourself before the Lord. Be encouraged for GOD always has a way to HIM 24/7…